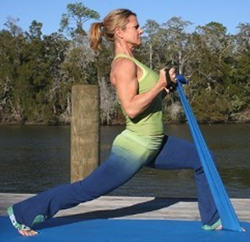 Jeff and I are very passionate about our health and fitness. We want to share our secrets so others can also experience the same lifelong health and fitness that we have.
Fairhope, AL (PRWEB) February 15, 2017
Dolly and Jeff Stokes, owners of BFitLifestyles, recently launched the company's new website, http://www.bfitlifestyles.com. "Jeff and I are very passionate about our health and fitness. We want to share our secrets so others can also experience the same lifelong health and fitness that we have," said Dolly.
BFitLifestyles provides information on how to live a life that allows one to be active and healthy forever. "There are no quick fixes, no restrictive diets or strenuous exercise programs," added Jeff. BFitLifestyles provides healthy nutrition tips, easy-to-perform exercises geared towards overall fitness, which is sustainable for a lifetime, stress and time management tips and much more.
The Stokes' vision for the company was first discovered during a recent trip to the mountains in San Bernardino, CA. At a minimum of 6,000 feet elevation, they were concerned prior to the trip that they may have difficulty hiking in the thin mountain air, but discovered their experience was just the opposite. The Stokes were able to hike ten-plus miles per day in elevations from 6,000 to 8,000 feet. They found at the end of each day they still had energy to enjoy the remaining daylight hours.
At 69 years young, Jeff has the strength and energy of a man 40 years his junior. He has been dedicated to fitness activities since his early days as a member of the S.W.A.T. team on the Mobile, AL, police force. Jeff, who went on to be the chief investigator for a prestigious Mobile law firm, has always worked out with weights, been an avid mountain-biker and enjoys physical activities on the water. Following his retirement in 2011, Jeff began managing Dolly's fitness training business, DollyBFitness.
Dolly, who is 53, was diagnosed with multiple sclerosis at the age of 47, and has been a fitness trainer for 30 years. Her neurologists attribute her high level of function to her many years of participating in fitness activities as well as mind-body activities, including yoga and Pilates.
Following their trip to San Bernardino, Jeff and Dolly created a vision of the BFitLifestyles so that they could share their secrets of health and fitness with others. They are both certified personal trainers, Pilates instructors and lifestyle fitness coaches. They have the BFitLifestyles YouTube Channel, which offers exercise and nutrition tips. You can also follow Jeff and Dolly on the BFitLifestyles Facebook page.
Dolly is writing a book based on Thai yoga and massage techniques. Her book, MyThaiYoga, will share a series of self-massage techniques to promote self-healing. Following the release of MyThaiYoga, they have plans to release a second book based on the BFitLifestyles nutrition program.
About Dolly and Jeff Stokes, BFitLifestyles
Dolly and Jeff Stokes are devoted to sharing their secrets of lifelong health to inspire others to embrace the BFitLifestyles. They own three fitness-related companies in Fairhope, AL: DollyBFitness, BFitLifestyles and Stokes Fitness Academy. Dolly and Jeff are available for speaking engagements for your group. They will inspire others to health and fitness through sharing their life stories. For more information, please visit http://www.bfitlifestyles.com.
About the NALA™
The NALA offers small and medium-sized businesses effective ways to reach customers through new media. As a single-agency source, the NALA helps businesses flourish in their local community. The NALA's mission is to promote a business' relevant and newsworthy events and achievements, both online and through traditional media. For media inquiries, please call 805.650.6121, ext. 361.