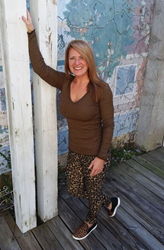 All of the BFitGirl programs are geared toward bringing women together who have a common goal – to be healthy.
Fairhope, AL (PRWEB) March 07, 2017
Dolly Stokes, creator and owner of DollyBFitness, is celebrating her thirtieth year as a professional fitness trainer and consultant. "From the moment I attended my first aerobics class as a freshman in college I was hooked on fitness. At that time, however, I never dreamed I would, thirty years later, have a successful fitness consulting business and a career as a top fitness educator," said Dolly, who uses techniques inspired by Thai massage and yoga.
Dolly, 53, lives with MS. She was diagnosed at 47, and was told to back off from physical activity and to decrease her work hours. However, since being diagnosed, Dolly adopted a brain healthy diet and scheduled daily rest, and now has the energy and stamina she had in her twenties. "When movement stops, health stops," noted Dolly. "Clean diet is the best medicine. Everyone enjoys exercise; they just need to find the exercise they enjoy."
DollyBFitness provides private fitness training through large group, small group and one-on-one opportunities. Dolly specializes in women's-only training. Her clients are known around Fairhope as the "BFitGirls." BFitGirls programming is successful because Dolly knows that, for many, friendship is often key to individuals reaching their goals. "All of the BFitGirl programs are geared toward bringing women together who have a common goal – to be healthy," added Dolly.
Dolly's goal for her clients is for them to embrace a lifestyle that allows them to achieve and sustain optimal fitness for life. The BFitGirls' motto is "GetFit! StayFit! BFit!" Dolly is constantly evolving her fitness programs with fun fitness activities that keep clients coming back for more.
Dolly's largest client is FiTOUR®, a nationally recognized continuing education provider for fitness professionals. Dolly has been a ProTrainer for FiTOUR® since 2002. Her work experience with FiTOUR® includes managing a team of 50 ProTrainers. She has been the Director of Education for FiTOUR® since 2007. Dolly has presented over 300 workshops for FiTOUR® throughout the U.S. She is also the featured presenter and producer of 15 FiTOUR® DVDs and has developed over 25 FiTOUR® Continuing Educational Courses.
Additionally, Dolly has authored five FiTOUR® course manuals, including Indoor Cycling Advanced course, Aqua Fitness Instructor Advanced course, Pilates Reformer Level One Instructor course, Boot Camp Instructor course and Group Exercise Instructor Advanced course. She is currently developing a FiTOUR® course on myofascial release and trigger point. Dolly has also worked internationally as a fitness trainer. In 2010, she presented at IDEA World, the United States' largest fitness convention.
About Dolly Stokes, DollyBFitness
Dolly Stokes is devoted to sharing healthy habits for lifelong health. Dolly and her husband, Jeff, own three fitness-related companies in Fairhope, AL: DollyBFitness, BFitLifestyles and Stokes Fitness Academy. Dolly is available as a consultant for fitness pros who would like to own their own fitness business. She also provides training and program implementation counseling for fitness facilities. For more information, please visit http://www.dollybfitness.com.
About the NALA™
The NALA offers small and medium-sized businesses effective ways to reach customers through new media. As a single-agency source, the NALA helps businesses flourish in their local community. The NALA's mission is to promote a business' relevant and newsworthy events and achievements, both online and through traditional media. For media inquiries, please call 805.650.6121, ext. 361.