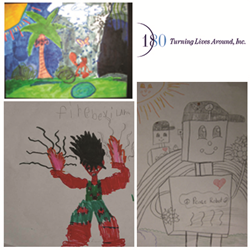 By helping women and children come to terms with previous violence and prevent future violence, Amanda's Easel helps countless families in our region deal with domestic abuse
Forked River, NJ (PRWEB) December 16, 2016
Sharer & Associates Inc., a locally owned and operated company that provides asset protection services and financial planning assistance to clients throughout northern New Jersey, is announcing a charity effort that will raise support for a nearby nonprofit that works with women and children struggling to overcome domestic abuse.
Amanda's Easel offers a comprehensive set of creative art therapy programs geared for children and spouses from homes threatened by domestic violence. These programs have been shown to enable victims to come to terms with their emotions, learn positive coping mechanisms for dealing with potentially violent situations, and assist them in overcoming past trauma.
"By helping women and children come to terms with previous violence and prevent future violence, Amanda's Easel helps countless families in our region deal with domestic abuse," says Bob Considine, co-owner of Sharer & Associates Inc. "While unorthodox, there's no denying the effectiveness of Amanda's Easel programs when it comes to helping victims of abuse to begin the healing process," says Bob's partner Donn Sharer.
Considine and Sharer are both working to gather publicity for the charity event benefitting Amanda's Easel by attracting a broad coalition of local supporters over social media and email channels. Future efforts to improve exposure for the charity event will involve a story featuring Amanda's Easel in a new edition of "Our Hometown," an online magazine published by Sharer & Associates.
Several charitable causes and nonprofit organizations operating in northern New Jersey have enjoyed the assistance of Sharer & Associates over recent months. Considine and Sharer have recently become members of the "Agents of Change" national charity support network and plan to continue working to support a new nonprofit organization every 60 days.
Readers that want to know more about the charity drive to support Amanda's Easel are invited by the Sharer & Associates team to visit the following page: http://www.sharerandassociates.com/Creating-Hope-for-Domestic-Violence-Survivors_16_community_cause. Charitable efforts previously undertaken by the Sharer & Associates team are detailed on the agency's Community Causes page: http://www.sharerandassociates.com/community-cause.
About Sharer & Associates
As Personal Finance Representatives in Forked River and in Millstone Township, agency owners Donn Sharer and Bob Considine know many local families. Their knowledge and understanding of the people in the community ensures that clients of Sharer & Associates are provided with an outstanding level of service. Donn and Bob look forward to helping families protect the things that are most important - family, home, car and more. Sharer & Associates also offers clients a preparation strategy for achieving their financial goals. To contact an expert at Sharer & Associates, visit http://www.sharerandassociates.com/ or call (732) 446-4919 or (609) 971-8300.