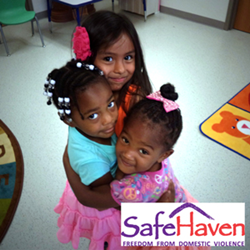 It is absolutely imperative that our community is able to effectively offer safe and immediate assistance to the victims of domestic abuse, which is why we need organizations like SafeHaven
Fort Worth, TX (PRWEB) April 14, 2016
Ray Insurance Agencies, a Texas-based insurance firm with offices serving Fort Worth, Dallas, and the surrounding region, is teaming up with local non-profit SafeHaven in a cooperative charity event to raise donations and support for victims of domestic violence.
SafeHaven offers the largest and most comprehensive domestic abuse shelter in the Fort Worth area, and serves abuse survivors with two 24-hour emergency shelters along with a full range of counseling, legal, and children's services. SafeHaven is dedicated to ending domestic violence by promoting safety, providing support, educating on abuse prevention, and consistently advocating for social change.
"It is absolutely imperative that our community is able to effectively offer safe and immediate assistance to the victims of domestic abuse, which is why we need organizations like SafeHaven," says Ray Gustafson, founder and director of Ray Insurance Agencies.
To publicize the SafeHaven charity drive, Gustafson and his team are building bridges with community and business leaders using an email bulletin and social media platform. Ray Insurance will also be featuring the SafeHaven charity effort in the next issue of "Our Hometown," an online magazine produced by the firm: http://www.rayinsuranceagencies.com/Our-Hometown-Magazine_39.
Half a dozen other Texas charities have already received assistance from Ray Insurance Services on previous charity drives. As part of a community involvement campaign called "Agents of Change," Ray Insurance will be selecting and assisting another local charity every other month.
Anyone who wishes to join Ray Insurance Services during the SafeHaven charity event is encouraged by the firm to do so by visiting the following page and making a contribution: http://www.rayinsuranceagencies.com/A-Safe-Haven-For-Victims-Of-Domestic-Violence_19_community_cause. Anyone who wish to learn more about previous charity drives supported by Ray Insurance Agencies can review the firm's Community Causes list here: http://www.rayinsuranceagencies.com/community-cause.
About Ray Insurance Agencies
Headquartered in Fort Worth, Texas, Ray Insurance Agencies is committed to providing local communities with insurance service that meets their needs. Taking pride in its team of professionals, Ray Insurance Agencies works with carriers to assemble a variety of products and services for its customers. These services include all the products a typical consumer needs (home, auto, boat, ATV, etc.), financial services (retirement, savings, long term care, disability, etc.), business insurance (liability, building, auto), and workplace and individual benefits (accident, critical illness, cancer, disability, life). To reach a knowledgeable expert at Ray Insurance Agencies, visit http://www.rayinsuranceagencies.com/ or call (817) 514-0358.