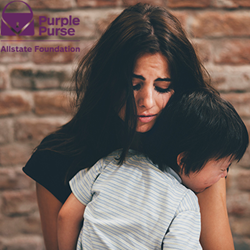 It's hard to believe that one in four women in America today will face domestic abuse during their lifetime, but by supporting organizations like Purple Purse, our community can help put an end to abuse once and for all
Green Bay, WI (PRWEB) September 13, 2016
Allcox Insurance Agency, a full service insurance and financial planning firm headquartered in the Green Bay metropolitan region, is joining forces with the Purple Purse Foundation for a charity initiative that promises to provide support to victims and survivors of financial and domestic abuse.
The Purple Purse Foundation is a national nonprofit organization dedicated to empowering and supporting those trapped in unhealthy relationships by domestic abusers. More than 98% of domestic violence victims struggle with some form of financial abuse, a situation where the abuser uses financial resources as a way to keep victims ensnared and dependent.
"It's hard to believe that one in four women in America today will face domestic abuse during their lifetime, but by supporting organizations like Purple Purse, our community can help put an end to abuse once and for all," says Jon Allcox owner and director of Allcox Insurance Agency.
Efforts to gather support and raise awareness for the Purple Purse charity event are already underway. Allcox and his team have established on online social media presence and launched an email update bulletin, and the team plans to publish a feature article discussing the charity drive in the next issue of "Our Hometown," an online magazine produced by the firm: http://www.allcoxinsurancegroup.com/Our-Hometown-Magazine_39.
Several notable charities in the Green Bay area have already received assistance from Allcox Insurance Agency over recent months. As members of the national "Agents of Change" charity involvement program, Allcox Insurance will continue finding and working with another new charity in the region every 60 days.
Those who wish to take action in support of the Purple Purse Foundation charity initiative alongside the Allcox Insurance team are encouraged to visit the following page and make a direct effort to support the cause: http://www.allcoxinsurancegroup.com/Freeing-Victims-of-Domestic-Abuse_16_community_cause. Additional information on charitable causes and nonprofit organizations that have been assisted by Allcox Insurance Agency in the past can be found on the Allcox Community Causes listing, located here: http://www.allcoxinsurancegroup.com/community-cause.
About Allcox Insurance Agency
The goal of the Allcox Insurance Group is to provide unparalleled service by offering premium quality insurance protection and knowledgeable assistance in planning and managing investments, retirement accounts, and college savings plans. With an entire staff that hails from the northeastern Wisconsin, Allcox is extremely loyal to the local community and guarantees a stress-free and gratifying experience for all clients. When you deal with Allcox, expect honesty, fairness and integrity, now and in the years to come. To speak with a helpful representative from Allcox Insurance Agency, visit http://www.allcoxinsurancegroup.com/ or call (920) 498-3630.