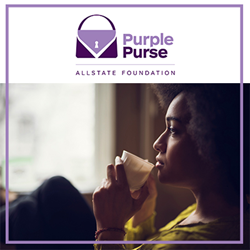 Whether domestic violence victims are struggling to overcome physical or financial abuse, our goal and the goal of the Purple Purse Foundation is to provide these victims with real help and a way out
Laredo, TX (PRWEB) September 15, 2016
Moreno Insurance Agency, a Texas-based insurance and financial planning firm serving residential and commercial clients throughout the greater Laredo region, is announcing a cooperative charity drive in conjunction with the Purple Purse Foundation that promises to provide support to survivors of financial and domestic violence.
The Purple Purse Foundation is a national Allstate organization committed to providing assistance to individuals trapped in harmful relationships by abusers. For nearly all survivors of domestic violence, financial abuse – or the use of finances to control and manipulate – is an additional problem that must be overcome before the victim can regain a sense of security and control over their lives.
"Whether domestic violence victims are struggling to overcome physical or financial abuse, our goal and the goal of the Purple Purse Foundation is to provide these victims with real help and a way out," says Marcus Moreno, founder and director of the Moreno Insurance Agency.
Moreno and his team are finding significant support from families and business owners in the region by communicating over social media and email. Moreno Insurance Agency also plans to produce a full page article that will feature the Purple Purse Foundation charity event in the upcoming edition of the firm's online community interest magazine "Our Hometown": http://www.morenoinsuranceagency.com/Our-Hometown-Magazine_39.
Last month, Moreno Insurance Agency became one of the newest affiliates of the national "Agents of Change" charity involvement campaign. As part of this ongoing program, the Moreno team will be selecting and assisting another Laredo-area charity every sixty days in the months to come.
Readers that want to join Moreno Insurance Agency and support the Purple Purse Foundation charity event to end domestic violence are urged to take direct action by visiting the following page: http://www.morenoinsuranceagency.com/On-the-Road-to-A-Better-Life_12_community_cause. Readers that would like to track the involvement of the Moreno Insurance Agency as they support additional charitable causes in the future are invited to bookmark the firm's permanent Community Causes page here: http://www.morenoinsuranceagency.com/community-cause.
About Moreno Insurance Agency
As a Personal Finance Representative in Laredo, agency owner Marcus Moreno knows many local families. His knowledge and understanding of the people in his community ensures that clients of Moreno Insurance Agency are provided with an outstanding level of service. Marcus and his team look forward to helping families protect the things that are most important - family, home, car and more. Moreno Insurance Agency also offers clients a preparation strategy for achieving their financial goals. To contact an expert at Moreno Insurance Agency, visit http://www.morenoinsuranceagency.com/ or call (956) 725-4934.