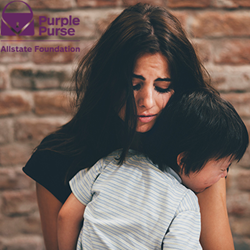 Financial abuse is something few people talk about, but it is just as real and just as vicious as physical violence – we hope our community will join us and support Purple Purse so we can bring an end to both kinds of abuse
Littleton, CO (PRWEB) September 20, 2016
The Scott Hoery Agency, a Colorado-based insurance and financial planning firm that provides coverage to business and residential clients in and around the greater Denver metropolitan area, is joining the Purple Purse Foundation in a charity drive to assist survivors of financial and domestic abuse.
Financial abuse is recognized as the use of money or resources to entrap a victim of domestic abuse. Recent statistics from the Purple Purse Foundation show that one in four women will experience an incidence of domestic abuse during their lifetime, and more than 98% of physical abuse survivors are also victims of financial abuse.
"Financial abuse is something few people talk about, but it is just as real and just as vicious as physical violence – we hope our community will join us and support Purple Purse so we can bring an end to both kinds of abuse," says Scott Hoery, founder and acting director of the Scott Hoery Agency.
To raise awareness of financial abuse and raise support for the Purple Purse charity event, Hoery and his team are utilizing an interactive social media presence and email update system to share information with communities across Colorado. The Hoery team also plans to produce an article featuring the charity event for publication in the firm's webzine "Our Hometown": http://www.scotthoeryagency.com/Our-Hometown-Magazine_39.
Several months ago, the Scott Hoery Agency became one of the newer affiliates of the nationwide "Agents of Change" charity involvement program. Part of this affiliation will include the Hoery team selecting and working with another Denver area charitable cause or nonprofit every sixty days.
Anyone that wishes to take part in the Purple Purse Foundation charity initiative next to the Scott Hoery Agency team is encouraged to take action in support of the cause by visiting this page: http://www.scotthoeryagency.com/Empowering-Women-to-Escape-from-Domestic-Violence_14_community_cause. For more information on previous charitable organizations and nonprofit causes supported by the Scott Hoery Agency, readers can review the firm's permanent Community Causes listing here: http://www.scotthoeryagency.com/community-cause.
About Scott Hoery Agency
As a Personal Finance Representative living in Littleton/Highlands Ranch for 17 years with his wife and 2 children, agency owner Scott Hoery knows many local families. His knowledge and understanding of the people in his community ensures that clients of Scott Hoery Agency are provided with an outstanding level of service. Scott and his team look forward to helping families protect the things that are most important - family, home, car and more. Scott Hoery Agency also offers clients a preparation strategy for achieving their financial goals. To contact an expert at Scott Hoery Agency, visit http://www.scotthoeryagency.com/ or call (303) 738-0363.