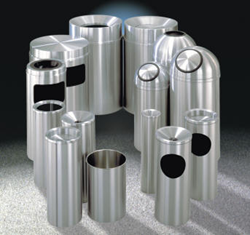 Companies like Glaro Inc. who promise a one to three-day shipping timeline are increasingly in demand as rapid service, customization and a large variety of choices have become essential factors in selecting a manufacturer.
Hauppauge, NY (PRWEB) March 25, 2014
Rising domestic demand for quality, locally manufactured waste receptacles is a growing trend, according to executives at top waste receptacles manufacturer Glaro Incorporated. In a candid interview this March, management shared that buying local metal waste receptacles is not just pragmatic but it is also a preference increasingly bolstering demand for their products all over the U.S.A. and Canada.
Three key reasons behind why USA receptacles are preferred over foreign imports were revealed:
Reason 1: Lower Shipping Expense
Waste receptacles are expensive to ship overseas. The cubic dimensions of each box are large and the shipping density of that box is very low, resulting in cost prohibitive shipping costs. "Consumers may be paying a disproportionate amount on shipping rather than the product itself," says Plant Manager Bob Glass. "That's a big deterrent to importing receptacles. By contrast, when you buy domestic receptacles, you are paying for the actual product. It's also much 'greener' and more energy efficient to buy receptacles from U.S. manufacturers."
Reason 2: More Choices
Offshore manufactures often restrict their lines to a limited choice of designs, finishes and sizes to minimize their own costs. Many do not manufacture aluminum receptacles, for example, limiting themselves to less expensive steel materials. Aluminum receptacle construction results in a streak-free appearance and is considered by many designers to have a more sophisticated, upscale appearance ideal for commercial facilities.
Other deterrents that have been observed are a limited variety of finishes, long wait times and the fact that customization is usually not available in a realistic timeframe from offshore manufacturers. "Fortunately, customers who need customized receptacles do not have to wait weeks or months to get a receptacle with their logo or message on it when they buy local," says Executive Vice President Bob Betensky. Glaro Incorporated reports that it has some of the fastest shipping timelines in the industry to solve this very problem, shipping products in one to three days.
Reason 3: Better Quality Control
Quality control is much more difficult to ensure from an offshore manufacturer or an American manufacturer having their products made abroad. They may not use the same gauge materials you need; they may not be conditioning the surface of the metals properly so that the applied finish bonds to the metal, creating the durability you expect in a finish; etc. "If 'green manufacturing' is important to you, it can be harder to determine if they are following sustainable manufacturing processes, using recycled or recyclable materials, or using materials that can be harmful to the environment," added Mr. Betensky.
As a result of these disadvantages, a growing number of U.S. companies prefer American made receptacles. Companies like Glaro Inc. who additionally promise a one to three-day shipping timeline are increasingly in demand as rapid service, customization and a large variety of choices have become essential factors in selecting a manufacturer.
For more information, visit glaro.com or call (888) 234-1050.
About Glaro Incorporated:
Glaro Inc. (glaro.com) is a leading USA manufacturer of commercial and consumer aluminum and steel products sold directly to distributors/dealers for almost 70 years. All products ship in one to three days. Product lines include bellman and luggage carts, platform trucks, metal trash receptacles, recycling receptacles, smokers' posts and receptacles, crowd control posts and systems, safety barriers, signs, sign frames, directories, menu display stands, coat hanging equipment, coat trees, indoor umbrella holders, wet umbrella bag stands, metal planters, and key drop boxes.