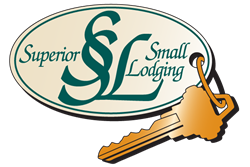 Destination Marketing Offices (DMO's) and Convention & Visitors Bureaus (CVB's) aka (VCB's) through the state are all committed to the common goal of educating the traveling public that Superior Small Lodging properties are an excellent alternative to the
Fort Lauderdale, FL (PRWEB) April 30, 2015
Convention and Visitors Bureaus, VCB's and other Tourism Offices around the state of Florida offer the Superior Small Lodging Association (SSL), an association of small, unique lodgings throughout the state, tremendous support in their efforts to attract visitors to their destinations.
The DMO's have found that many visitors are looking for the charm and old Florida authenticity that these small, independent properties provide and since all SSL members must pass an annual inspection, the DMO's can be assured that they offer a high level of cleanliness and personal service and are therefore wonderful ambassadors for their respective destinations.
"Destination Marketing Offices (DMO's) and Convention & Visitors Bureaus (CVB's) aka (VCB's) through the state are all committed to the common goal of educating the traveling public that Superior Small Lodging properties are an excellent alternative to the larger flagged corporate hotel chains, " said Scott Rivelli, Executive Director of the Association. "Our unique relationship with these County CVB's, VCB's and DMO's gives Superior Small Lodging members unprecedented support in those destinations. DMO's often encourage SSL members to participate in developing programs and marketing opportunities that are designed to insure the smaller properties are represented and get their fair share of the benefits that the tourist tax revenue supports that often favors the larger flagged corporate hotel chains."
Support for SSL shows up in many ways. Many DMO's, such as the Greater Fort Lauderdale CVB; the Lee County Visitors and Convention Bureau; St. Augustine, Ponte Vedra & The Beaches Visitors and Conventions Bureau; The Space Coast Office of Tourism; and the St. Petersburg/Clearwater CVB have representatives on the SSL Board of Directors or Executive Board.
Other types of support may include:

Providing Superior Small Lodging recognition in the destination Visitors Guide. In the case of Greater Fort Lauderdale there is a separate guide for the 62 SSL member properties.
SSL recognition on the destination's official website.
Providing Co-Op marketing opportunities that make it possible for small properties to participate.
Including SSL and its members in destination marketing initiatives.
Using collected bed-tax dollars to advertise SSL to various markets
Distributing SSL information at trade shows such as ITB.
Hosting networking opportunities for SSL members such as monthly chapter meetings and socials.
Hosting the annual SSL Member Conference.
Providing SSL a booth at various events and shows held at the destination, such as the Fort Lauderdale Boat Show.
Using SSL properties to showcase the destination to visiting travel writers, journalists and others on familiarization (FAM) trips to the area.
Writing and distributing Press Releases on White Glove Award winners upon completion of the inspection process.
Superior Small Lodging is very grateful for this support and is committed to continue to be a strong partner with the DMO's around the state.
About The Superior Small Lodging Association
The Superior Small Lodging Association (SSLA) is a non-profit association of independently owned and managed boutique Inn's, B&B's and hotels throughout the State of Florida with fewer than 50 rooms. Established in 1989 to bring brand awareness to the smaller boutique lodgings as an alternative to the large corporate branded hotel chains, the Superior Small Lodging Brand has come to represent a partnership of unique lodging properties offering a high level of service, comfort and cleanliness and those that meet specific cleanliness standards are recognized with our White Glove Award for cleanliness. Excellence in quality and service are also recognized. With approximately 170 member properties representing almost 3,000 hotel rooms, time shares and vacation rentals throughout the State of Florida the success of the Superior Small Lodging program is undisputed and gives prospective guests the comfort of knowing that when they book a Superior Small Lodging property they can be assured of a high standard of excellence.