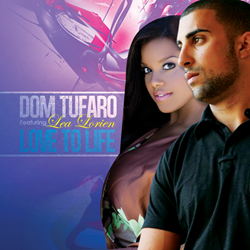 I just want to do what I love and for me. If I don't have music, I don't have anything" says Lorein.
Port Saint Lucie, FL (PRWEB) July 29, 2014
Dom Tufaro and Singer/Songwriter Lea Lorien, both represented by Nene Musik Llc., collaborate on their newest single "Love To Life".
About Dom Tufaro:
Dom Tufaro made his DJ debut at Level Lounge NYC. Spinning live for the first time in front of hundreds of club goers, the young Disc Jockey caught the attention of many near and far. Tufaro's unique style has attracted a number of fans that love not only his style of play but his creativity as well. He has played at various international clubs including: Webster Hall, Pacha's Hilton Beach Party, Private Yacht Parties in Dubai as well as several venues in Montreal, Canada.
Forming a team with Mike Licata, Vic Latino and David Bionic (Collectively known as Tune~Adiks), Dom Tufaro has produced and remixed tracks featuring Sean Kingston, Snoop Dogg and Flo Rida. Together the production team is rocking clubs internationally and gaining notoriety as one of the most powerful DJ/Production teams from New York.
About Lea Lorien:
Native New Yorker, Lea Lorien has been influencing the music world since her 2004 debut single "How Would You Feel". This hit was a collaboration that launched David Morales's second album 2 Worlds Collide. Within weeks of the debut it went to #1 on the Billboard Dance Radio Chart, speeding past Destiny's Child and bypassing Ciara two weeks in a row. It remained on the U.S. Top 10 charts for weeks as well as landing on the Top 100 album chart for that year. In 2005, Lorien & Morales won best House/Garage track at the International Dance Music Awards/Winter Music Conference in Miami.
Lea Lorien is daughter of Rock guitarist Carlos Alomar and Singer Robin Clark. She has sung backgrounds for Mary J. Blige, Carl Thomas, Brandi, Patti Austin, Michael Bolton, Shania Twain, and Grammy Award winning group Scissor Sisters. In 2011, Lea co-wrote "I'll Never Give Up" for American Idol contestant Mario Vasquez which was produced by Hype Jones and Alex Says.
Lea's vision is to keep the creativity flowing and not to be put into a box that would limit her abilities as a Singer/Songwriter/Musician. "It's my job to be a chameleon, in a sense. Being able to write a good Dance song or a good Hip Hop track, Pop song or a good R&B song. I just want to do what I love and for me. If I don't have music, I don't have anything" says Lorein.
Download the talented artist's new single "Love To Life" on iTunes, Amazon, and all major digital retailers.
https://itunes.apple.com/us/album/love-to-life-single/id897993795
http://www.amazon.com/Love-Life-Dom-Tufaro-Lorien/dp/B00LPX8UFS/ref=sr_1_6?ie=UTF8&qid=1406308693&sr=8-6&keywords=dom+tufaro
About Nene Musik Productions, Llc.:
Nene Musik Productions, Llc. (http://www.nenemusik.com) was established in 1989. Today, It is a boutique Artist Management and Consulting Agency that services Recording Artists, International DJ's and Celebrities. Dennis Rodman, Cascada, Mia Martina and Tune~Adik's Vic Latino are just of few on Nene Musik's client roster. Nene Musik's experience and commitment to excellence have earned them the reputation as one of the best Artist Management / Consulting companies in the World.
For Interviews contact: Alexandra Kulak – 01.772.807.8305 or promo(at)nenemusik(dot)com