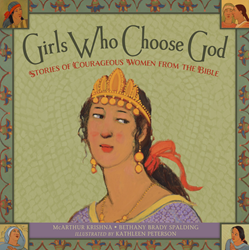 Profits will enhance educational and employment opportunities for young women around the world.
(PRWEB) July 31, 2014
From Eve to Esther, from the Samaritan woman at the well to the widow with her two mites, many women in the Bible have made courageous choices. All through the ages, women have chosen to help, to solve problems, to stand up for others, to strengthen families, and to follow God no matter what.
"Yet, when young women read the scriptures, they often feel like the women are missing, or at least not well-represented," says co-author Bethany Brady Spalding. "We spent four years putting together this beautifully illustrated book to help young women learn and grow from the incredible example of the courageous women of the scriptures," she adds.
The book is for sale at Deseret Book here: http://deseretbook.com/Girls-Who-Choose-God-McArthur-Krishna/i/5120275.
Girls Who Choose God invites young readers (and those who love them) to make important choices of their own, following the examples of great women in the scriptures. With breathtaking illustrations, beautifully told stories, and insightful discussion questions, this delightful book is perfect for sharing, reading aloud, and drawing children into the scriptures.
Through an agreement with Interweave Solutions, profits of the book will enhance educational and employment opportunities for young women around the world. All of the authors' proceeds will be donated to Interweave Solutions. Learn more here: interweavesolutions.org.
Bethany has known Lynn, the co-founder of Interweave Solutions, for nearly twenty years. Lynn used to run one of the world's largest literacy nonprofits. He was a mentor and inspiration for showing the model that you can make a living working on your passions. For decades, he changed women's lives all over the world by helping them gain literacy skills. He has a track record of transforming women's lives. More recently, he has become a founding member of Interweave Solutions. Interweave identifies areas of extreme poverty around the world and intervenes with educational and entrepreneurial mentoring.
Because McArthur co-owned a business for over a decade, she is passionate about women developing entrepreneurial skills. She feels that if a woman can provide for herself then it changes the dynamics of choices available. Interweave not only helps women gain education but valuable skills to support their families.
We are delighted to help advance their work.
"Today, our daughters and sons have an array of decisions in front of them; they need to know they are capable of making wise choices. The examples of these courageous women can inspire our children to be forces for good," says McArthur Krishna, co-author.