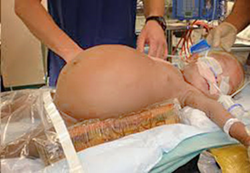 Newport News, Virginia (PRWEB) May 29, 2014
Starting Sunday, June 1, 2014, the family of Dylan Cooney will start collecting donations on the crowdfunding platform Go Fund Me.
Earlier this year, Dylan was diagnosed with Stage 3 Wilms Tumor, a cancer that normally affects very young children.
The tumor began to grow in one of the kidneys and has unfortunately spread to the stomach area, causing some abnormal symptoms.
Some of the symptoms of Dylan's illness included the following:

Abdominal swelling
Stomach pains
Fever
Blood in the urine
Trouble swallowing food
Vomiting
.
The Cooney Family currently has Dylan enrolled in clinical studies at the Naval Medical Center in Portsmouth, Virginia to help cope with the cancer.
Naval Medical Center is associated with The Children's Oncology Group.
The Children's Oncology Group provides a list of specialists across the country that can perform clinical studies dealing with childhood cancer.
Child oncologists at the Naval Medical Center also provide additional services other than clinical studies.
That includes surgery, chemotherapy, radiation therapy and various other medical procedures designed to help children with cancer.
Oncologists can remove Dylan's tumor, but financial barriers are blocking the process Dylan needs in order to receive the proper treatment.
Current medical insurance will not cover the procedure to remove the tumor, thus forcing the family to try and raise money on the crowdfunding website Go Fund Me.
Close to $297,000 needs to be raised to surgically remove the tumor by an operation known as a partial nephrectomy.
Also, the funds donated will be used for additional testing including chemotherapy and radiation therapy.
For individuals who donate to this very important cause, the family has decided to give gifts as a reward for their generosity.
The gifts range from the donor's name being listed on Dylan Cooney Facebook Page to being sent a tribute documentary.
Donors, who are interested in helping Dylan Cooney, please visit the Go Fund Me donation page at http://www.gofundme.com/helpingdylan.
Also, check out Dylan Cooney Tumor Fund Facebook Page at http://www.facebook.com/dylancooneytumorfund.
Like the page and add comments on Facebook to help build social proof.