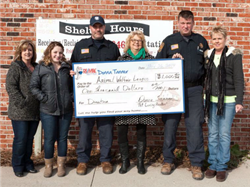 It could not only change the life of an animal, but yours as well.
Crawfordsville, IN (PRWEB) May 12, 2015
Realtor and animal lover, Donna Tanner, is cordially inviting the public to attend Stroll for Strays on Sunday, May 17, rain or shine, to help support the Animal Welfare League (AWL) at the Lew Wallace Study, located at 200 Wallace Avenue in Crawfordsville, IN. Registration goes from 12:00 P.M.-1:00P.M., with the pet parade starting at 1:00P.M. The mission of the AWL is to save lives and prevent pain, fear and suffering and provide sanctuary and permanent homes for unwanted, lost and neglected animals.
"Everybody needs a home, including animals," said Donna. "My goal is to not only find homes for people, but for pets."
Donna, who will have a table at Stroll for Strays, where she will be handing out dog and cat treat bags, also donates a portion of her real estate commissions to the AWL, and has for years. To date, she has personally donated more than $10,000. "My real estate career makes it hard to commit to volunteer programs, so I decided it would be best for me to donate a portion of my real estate sales," said Donna.
While at the 2011 Stroll for Strays, Donna adopted two part-Scottish Terriers that were on their way to a Scotty rescue group in Tennessee, and is urging people in attendance at the 2015 event to follow suit. "If you don't have a pet, know someone who doesn't or if you would like to donate time or money, please attend Stroll for Strays," said Donna. "It could not only change the life of an animal, but yours as well."
For more information about Stroll for Strays and the AWL, please visit mcawl.com.
About Donna Tanner, RE/MAX Ability Plus
Donna Tanner has been a licensed Realtor for more than 35 years. She also has a broker's license and completed the Graduate Realtor Institute for the GRI designation. For more information, please call (765) 366-0607.
About NALA™
The NALA offers local business owners new online advertising & small business marketing tools, great business benefits, education and money-saving programs, as well as a charity program.
PR Contact:
news(at)thenala(dot)com
805.650.6121, ext. 361