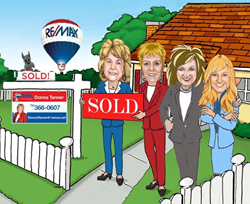 Donations will help the Animal Welfare League make it through the winter months, while caring for all the pets that are in need of good homes.
Crawfordsville, IN (PRWEB) November 06, 2015
"We are encouraging donations in the form of food or money while visiting Santa Paws," said Donna. "Donations will help the Animal Welfare League make it through the winter months, while caring for all the pets that are in need of good homes."
Additionally, the event will give local children an opportunity to visit with Santa Paws. Simultaneously, it will teach them about giving to charity-type organizations such as the Animal Welfare League, whose mission is to bridge the gap between abandoned pets and loving families and individuals.
"I have supported this organization for over ten years by donating a portion of my annual real estate sales at a minimum of $1,000 each year," said Donna. "This will be a fun event, so my team, Gina Reagan, Roberta Bowman and myself, are hoping we have a big turnout of kids wanting to see Santa, plus donations for the pets that need homes."
In addition to the upcoming event, the Donna Tanner Team recently hosted its Annual Client Appreciation Pumpkin Patch event at Dulls Pumpkin Patch in Thorntown, IN. RE/MAX Ability Plus provided snacks, drinks, caramel apples and attendees participated in old-fashioned games, face painting, pumpkin cannon, corn maze, hillside underground slide, hay mows, wagon rides and much more, and everyone went home with a pumpkin.
"We are currently experiencing one of the best years in the real estate business since I started selling homes in 1980, and these events are a way to give back and let our clients and the community know just how much we appreciate them," said Donna. "As an extra incentive, I decided to offer a drawing for Indianapolis Colts tickets in hopes of increasing the Donna Tanner Team listing inventory as we go into the winter selling season."
To qualify, list your home with the Donna Tanner Team before December 31, 2015, and your name will be in a drawing for a chance to win four Colts tickets with seats located on the lower level on the north side of the stadium (Colts end zone Section 101, row 21, seats 1-4). No purchase is necessary. For the official rules, please visit http://www.donnatanner.com.
About Donna Tanner, RE/MAX Ability Plus
Donna Tanner has been a licensed Realtor for more than 35 years. She also has a broker's license, CRS, and completed the Graduate Realtor Institute for the GRI designation. For more information, please call (765) 366-0607, or follow the Donna Tanner Team on Facebook and Google+. RE/MAX Ability Plus is located at 2030 Indianapolis Ave., Lebanon, IN 46052.
About the NALA™
The NALA offers local business owners new online advertising & small business marketing tools, great business benefits, education and money-saving programs, as well as a charity program. For media inquiries, please call 805.650.6121, ext. 361.