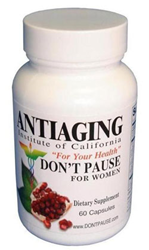 Beverly Hills, CA (PRWEB) June 18, 2014
The AntiAging Institute of California is now making a special offer for DON'T PAUSE. For a limited time, DON'T PAUSE for Menopause will be available with a special buy-two, get-one offer that allows people to save more than $25 on their next purchase. DON'T PAUSE is designed to combat the 45 symptoms of menopause as identified by Dr. Shoreh Ershadi, including menopause trouble sleeping, breast tenderness, period irregularity and menopause vaginal atrophy.
Menopause lack of sleep is a common problem that can begin early in the menopause transition. Women often first notice symptoms in their late 30s or early 40s as their ovaries begin to slow production of progesterone and estrogen. These hormones can become imbalanced and trigger a wide range of symptoms. Women can suffer from hot flashes, night sweats, menopause lack of sleep, dry skin, hair loss and vaginal blockage menopause. Symptoms can affect health and quality of life, and many women experience symptoms not only during menopause but also throughout the rest of their lives.
Most women can achieve a degree of relief by making healthy lifestyle choices. Limiting the intake of processed foods, caffeine, alcohol and tobacco can be a great start. Women may also need to increase their exercise to keep their bones strong and their waistlines healthy. Good sleep habits can reduce the effects of inadequate sleep. Some women may need to track their symptoms and identify their triggers, which can worsen symptoms. However, lifestyle changes are often not enough for many women. DON'T PAUSE works by directly addressing menopause symptoms, but it can also reduce or eliminate those hormone swings that are triggering so many of the symptoms. DON'T PAUSE also contains green tea for menopause relief.
The AntiAging Institute of California offers an extensive selection of natural supplements that are both Halal and Kosher certified. These supplements include natural herbal ingredients and a special blend of vitamins and antioxidants that work together to reduce the risks of age-related health problems, such as menopause symptoms. DON'T PAUSE for Menopause is one of their most popular supplements, and this special makes it more affordable than ever for women who are suffering from unwanted menopause symptoms.