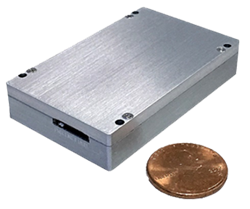 SOMERSET, N.J. (PRWEB) October 03, 2018
Doodle Labs is proud to introduce the Smart Radio™ - the world's first high-speed, long-range radio that has been optimized for SWaP (Space, Weight, and Power). It has been designed to simplify integration into Industrial IoT applications while providing the high performance of Doodle Labs' proprietary BII™ technology (Broadband for Industrial IoT) and powerful 2x2 MIMO communications. The full Smart Radio portfolio includes models that cumulatively cover 100 MHz - 4 GHz range.
"After working with many OEMs in the Industrial IoT space, we heard loud and clear that existing technology in the market wasn't meeting their fast-evolving needs," said Ashish Parikh, VP of Business Development. "We're excited to release the Smart Radio, which has been developed to meet the unique physical and performance requirements of mobile applications that need to transmit large amounts of data (e.g. video) over long distances."
Some examples of applications include:

Unmanned Aerial Systems (Drones)
Mobile Ground Robots
Mines and Construction Site Machines
Public Safety/Video Surveillance
Private Networks in Oil and Gas Fields
Wireless Ethernet Extension
Integration of the Smart Radio is nearly plug-and-play. It is a complete wireless modem, removing the need to connect to a separate CPU board, and utilizing an ethernet interface (USB interface available). The radios come preloaded with a customized version of OpenWrt, a widely-used open source Linux OS. Beta testers have completed integration of the Smart Radio into their systems in just a few hours.
The Smart Radio is the only device in the market that combines its high-performance in a very small form factor. 2×2 MIMO technology and 1W of transmit power enable distances exceeding 10 miles and data throughput exceeding 100 Mbps. MIMO leverages antenna diversity and RF reflections from the radio's surroundings to reinforce reliability, improve throughput, and extend range. All of the hardware is contained in a space slightly larger than a matchbox (37x57x11 mm, 40 grams) and consumes small amounts of power (6W max, 1W sleep).
With the introduction of the Smart Radio, Doodle Labs now offers the industry's widest range of high-speed, long-distance connectivity options between 100 MHz - 6 GHz. Moreover, with an agile development team, Doodle Labs is uniquely positioned to work with large OEMs and system integrators to customize existing products to meet specific requirements.
The Smart Radio is available for immediate ordering. Please reach out with any questions to see if the Smart Radio is right for your project. For inquiries, go to: https://doodlelabs.com/about-us/contact-us/
About Doodle Labs –
Doodle Labs develops state-of-the-art, wireless broadband radios, transceivers and front-end subsystems for Industrial IoT applications. For over 18 years, OEM manufacturers have been relying on Doodle Labs for expertise in designing their wireless systems. Their design philosophy is focused on achieving best-in-class performance while requiring minimal integration effort, thereby allowing customers to go to market faster with better performing products at a lower overall cost. http://www.doodlelabs.com
Singapore | USA