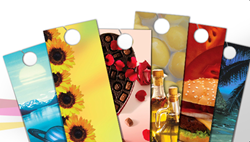 New York, NY (PRWEB) October 06, 2015
AllBusinessCards.com now offers customized door hangers, in addition to a host of other unique, affordable products. The company understands that a personal touch is often the difference between a good business and a great one. Customers routinely frequent businesses that offer that little something extra.
Using the latest technology in soy-ink products, AllBusinessCards.com has an entire line of individually tailored door hangers. Especially useful for the hospitality industry, these door hangers can be printed with specific business logos, artwork, colorful phrases or historical information relevant to the business and its patrons. AllBusinessCards.com even allows businesses to upload a custom image or artwork.
Hotel and bed-and-breakfast guests are looking for that little "extra touch" during their stay. A unique door hanger, tailored to specific guests' interests, could go a long way to securing future bookings. AllBusinessCards.com specializes in quirky, as well as one-of-a-kind — if it can be imagined, the company can print it.
The door hangers come standard with a UV finish, to insure that the printing will not fade quickly. One hanger can be used indefinitely. Business owners can choose between glossy and matte finishes, different card stocks, as well as different edgings, suited to their tastes.
AllBusinessCards.com has already begun to make a name for itself as a one-stop-shop for unusual gifts. Be it c custom bookmarks, custom door hangers, cups and mugs, totes, journals, automotive accessories, and much more — each is made from high-quality materials, with an eye toward being as eco-friendly as possible. Most of the company's paper products are created from 90 percent post-consumer materials and are all fully recyclable.
Printing is what AllBusinessCards.com does, so turnaround times are fast. Orders print within 1 or 2 days and ship within 3 days generally. Once a new item is crafted through the intuitive interface, consumers can expect to receive the finished product within a week — and often in less time.
AllBusinessCards.com has earned the loyalty of business owners thanks to its personable service and fast turnaround times on custom work. After beginning as a premier place to purchase one-of-a-kind business cards, the company has expanded its products to include much more.
About AllBusinessCards.com
Founded in 2009, AllBusinessCards.com is a supplier of custom business cards and related stationery. The company provides a selection of thousands of templates for card design and also prints custom designs for a small fee. All cards are printed on thick card stock and are available in a variety of finishes.