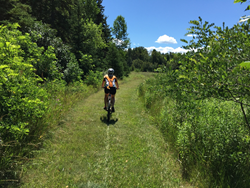 Trail Genius is an incredible tool that will change how locals and visitors can experience Door County.
Door County, Wisconsin (PRWEB) May 24, 2016
This spring visitors to the Door County Visitor Bureau (DCVB) website can virtually experience Door County's hiking and biking trails through a new mapping technology. The Bureau has partnered with Trail Genius, a digital mapping company, to bring the stunning natural beauty of Door County to life on screens of all sizes. The DCVB is one of the first destination marketing organizations in the country to take advantage of this technology.
Using video and GPS, the DCVB and Trail Genius have created an interactive experience for trails in all five of Door County's scenic state parks — Newport State Park, Peninsula State Park, Potawatomi State Park, Rock Island State Park and Whitefish Dunes State Park. The mapping system allows visitors to virtually bike or hike their way through every trail at these parks and follow their progress on a map simultaneously. Users can also experience 360 photography at scenic intersections along the trails. This allows users to see a 360-degree view of the trail and creates a fully immersive experience.
"Trail Genius is an incredible tool that will change how locals and visitors can experience Door County," says Jon Jarosh, the DCVB's director of communications and public relations. "This virtual technology can be used for trip planning, educational and informational purposes, but we're most excited to give people a chance to just explore our trails before they try them in person."
Trail Genius highlights Door County's unique terrain. Users will see a variety of trails from rugged, rolling hills, to bluffs, to winding roads that lead to the coast along the shoreline. Trail Genius has created interactive maps for all five state parks in Door County, covering hundreds of miles. The DCVB plans to develop more interactive maps in the future, with the county's marinas launching soon and the state park winter trails launching this fall.
To navigate through Door County with Trail Genius head to http://www.doorcounty.com/experience/scenic-attractions/parks/.