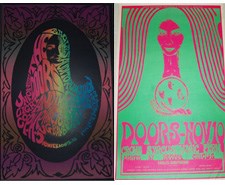 Local artist John Moerhing created silkscreen versions of this concert poster.
San Francisco, California (PRWEB) October 30, 2013
Avid Rock Poster Collector, Andrew Hawley from Vintage Rock Posters, finds classic psychedelic Seattle 1967 Doors Eagles Auditorium concert poster. Local artist John Moerhing created three silkscreen versions of this poster. The Doors concert was held on July 23, 1967. According to Hawley, "A local company called Choices Blend printed the silkscreens produced by Moerhing. More versions my have been produced but have not been found. The Doors came back to Eagles Auditorium on November 10 that same year. Moehring produced this show poster as well. The poster was purchased from a concert goer who went to the first Doors concert."
Hawley adds, "The poster measures 14x22 inches and was printed on thick cardboard. One version was a simple black and white while another was a rainbow of colors and the other known color combination was a very dark purple and black. These are great examples of 1960s psychedelic concert posters."
Hawley is willing to pay $3,000 cash for the July or November Doors Eagles Auditorium posters or any other 1967-70 original Doors rock n roll concert posters. Please call 310-346-1965 or go to http://www.vintageconcertposterbuyer.com/gallery_the_doors.html.