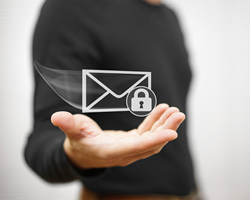 Send a Secure Email In Minutes. Encrypt Emails With Just One Click. Simple, Fast & Secure.
(PRWEB) February 07, 2017
Dooth, Inc. a Silicon Valley based startup has introduced a secure email service for businesses as well as consumers and is available as a Free Version.
The Dooth private internet platform protects online activities, providing a secure and encrypted way to send private email, direct messages, keep track of notes, appointments and conduct searches. Emails are only read by the sender and the recipient, there are no invasion of personal privacy and no breaches of security.
To safeguard your email, Dooth builds a fortress around your email in the form of 1) Five layers of security 2) Three layers of authentication 3) Virtual Keyboard for Vault Key 4) User data specific encryption. This is on top of the many security features provided by other email service providers.
Consumers today use internet's no cost services at the cost of personal privacy. Businesses surrender their confidential and sensitive data in exchange for no cost services.
"We've heard a lot about emails because of the recent Presidential Election. More than likely the person reading this is not running for President. Our clients are small business owners and consumers who want to keep their information protected. There is a concern with protecting your personal information and a need for a secure email service. You can check messages on your tablet, phone and computer so having an encrypted email platform is important, especially for small businesses."
Companies are under attack like never before. However, it's not for their money, it's for their data. They carry personal information of their employees and their customers. "A major corporation can afford to safeguard themselves from an attack but what about a small business? Can they really afford tens of thousands of dollars to protect their customer's information? Most of the recent hackings were primarily targeted towards small businesses as they are easy targets." Vinod Nair, Dooth Founder. He adds "The Dooth platform can help small businesses become a difficult target to attack. It is like an analogy of a bear chasing you, you don't have to outrun the bear-- you just have to outrun the others."
HIPAA, GLBA, FERP, SOX, PCI and other compliance's require all confidential client information must be kept private and stored safely, forcing businesses to take precautions in order to safeguard client information. Mr. Nair states "I am surprised to see how lawyers, accountants, health providers and others use free email services that mines their email contents—perhaps not fully protecting sensitive client privileged information." By storing this highly sensitive information on low or no cost servers which read data for targeted marketing there could be compliance issues and may be challenging to defend. However, Dooth provides an unprecedented secure alternative service that does not jeopardize the privacy of a business and its clients.