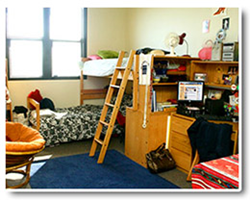 College is supposed to be a fun place, making sure you are prepared with simple safety tips will ensure your safety during your time away from home.
Columbus, Ohio (PRWEB) September 03, 2013
As college students head back to schools across the country, many of them not only study on campus, but also live on-site, most commonly in dorms. Unfortunately, college dorms can be a hotbed of criminal activity that poses a serious threat to students. The odds of a burglary occurring in dorm rooms is extremely high, but students aren't powerless against these threats.
AlarmSystemReport.com, a site providing FrontPoint Security reviews and ADT reviews, has created a list of dorm security tips for college students.
1. There are a number of do it yourself alarm systems that college students can install in their dorm rooms. For example, one such DIY alarm system is an inexpensive magnetic door alarm that will sound loudly if it is set and a door opened. There are also similar alarms for windows that will sound an alarm if a window is opened or broken.
2. A safe can be a valuable investment for students living on campus to house all valuables, particularly for dorm dwellers that have roommates or suitemates. Since dorm rooms offer limited space, there are small, portable options, and even safes that look like books or other standard items that can be easily hidden from view.
3. Students should alert roommates, friends and family members of their basic class and work schedule.
4. Don't use dorm stairs when alone. Often attackers will hide in stairwells and target students who are alone.
5. Students should always lock dorm room doors, even if they're just running down the hall for a moment. Keys should not be given to any other people, including friends, and it's important to discuss this with roommates as well. If a key does become misplaced, the locks to the room should be changed immediately. Windows should also remain locked at all times, even for dorm rooms that aren't located on the ground level.
6. Keep pepper spray within arm's reach in a dorm room. It's also a good idea for students—particularly female students—to carry pepper spray when walking on campus, especially at night. It is important to note that some states and campuses will have different rules and laws regarding carrying pepper spray, so be aware of these before you bring it onto campus.
7. Don't open dorm room doors without being completely sure of who is located on the other side. Always verify the identity of people who knock on the door before opening it.
About AlarmSystemReport.com
AlarmSystemReport.com is a third-party, fully independent provider of unbiased information pertaining to the home alarm industry. The site provides users and visitors with comprehensive reviews of the country's top home alarm system companies and equipment. Additionally, AlarmSystemReport.com also has valuable pricing information, including discount codes and coupons.