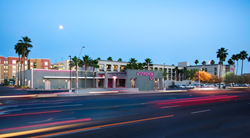 dormakaba's extensive experience with mobile access electronic door locks makes them an 'A-team player' in their field.
MONTREAL (PRWEB) November 10, 2016
dormakaba Group, provider of Saflok and ILCO RFID and mobile access security solutions, announced the 186-room Moxy Tempe, AZ hotel installed Saflok Quantum RFID mobile access electronic door locks. Moxy is Marriott International's edgy new lifestyle brand with the first Moxy debuting in the United States this year in Tempe, AZ and managed by Newport Beach, CA-based Twenty Four Seven Hotels http://www.247hotels.com. Click here for information on electronic door locks from the dormakaba Group.
Twenty Four Seven Hotels trusts dormakaba
"We trust dormakaba for our Moxy Tempe property because Twenty Four Seven Hotels has Saflok electronic door locks in other properties. They work very well for us and dormakaba customer support is excellent," said Bill Swank, Twenty Four Seven's president-development & construction. Twenty Four Seven operates 20 properties with several more in development. "dormakaba mobile access is ideal for the edgy Moxy Tempe's personality and guest mix. dormakaba's extensive experience with mobile access electronic door locks makes them an 'A-team player' in their field."
Twenty Four Seven Hotels specializes in hotel investment, development and management for premium brand select-service and lifestyle segments in the western U.S. The company's leadership team is comprised of seasoned hospitality industry professionals who understand how to manage properties profitably. "Our staff has experience in all areas of the industry from initial investment and development, management, insurance options all the way to disposition. We focus on major brands and know them well," said Swank.
"dormakaba's mobile access solution is seamlessly integrated with most major brand loyalty apps and chain technology infrastructures. This makes us a solid fit for companies like Twenty Four Seven Hotels," said Alastair Cush, dormakaba head of lodging global business development. Cloud-based dormakaba mobile access solutions enable guests to open their room doors with their own BLE mobile phone or device, including the Apple Watch, as a flexible alternative to a classic RFID keycard. dormakaba RFID locks manufactured today are compatible with BLE, IOS and Android mobile technology.
About Twenty Four Seven Hotels
An entrepreneurial and spirited hospitality company, Twenty Four Seven Hotels delivers highly specialized services in hotel management, investment, and development. After a decade of focusing on the premium brand select service segment, Twenty Four Seven Hotels is firmly establishing itself in the newly emerging lifestyle brand segment in launching the first Moxy hotel from Marriott to open in the US. Concentrated in the western United States, Twenty Four Seven Hotels continues to invest in high caliber hospitality talent to support its growing portfolio of hotels in partnership with premium hospitality brands including Marriott, Hilton, Hyatt and IHG.
For more information on Twenty Four Seven Hotels, visit http://www.247hotels.com
Twitter: @247hotels. Facebook: Twenty4SevenHotels. Instagram: @247hotels
About Moxy Hotels:
Moxy Hotels is Marriott International's new millennial-focused brand that debuted in September 2014 with the opening of the Moxy Milan. A boutique-hotel concept for the budget-savvy traveler, Moxy is a fresh and innovative brand combining stylish design and approachable service at an affordable price point. With tech-enabled rooms, vibrant lobby spaces and warm, modern service, Moxy aims to surprise travelers with a thoughtful, spirited and fun guest experience. To learn more about Moxy Hotels, visit http://www.MoxyHotels.com.

About dormakaba
dormakaba is one of the top three companies in the global market for access and security solutions. With strong brands such as Dorma and Kaba in our portfolio, we are a single source for products, solutions, and services related to doors and secure access to buildings and rooms. With around 16,000 employees and numerous cooperation partners, we are active in over 130 countries. dormakaba is headquartered in Rümlang (Zurich/Switzerland) and generates an annual turnover of over CHF 2 billion.
SIX Swiss Exchange: DOKA (formerly: KABN / KABNE) Further information at http://www.dormakaba.com