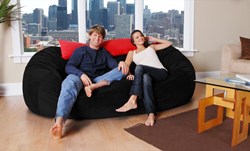 But Futons have changed in the last 5 years, for the better.
San Francisco, CA (PRWEB) August 07, 2013
The Futon Shop's Back To School Savings this 2013 School Year brings function and design for college students.
Futons used to be the cheap looking black metal frame, with the lumpy sliding futon mattress, and of course the ugly cotton cover. College students can attest to remembering how uncomfortable and tacky their futon was. It was almost a rite of passage going through the pain of college life with one's cheap futon. But now The Futon Shop's modern dorm furniture consist of an upgraded list of: bunk beds, microfiber covers, bean bags, storage included beds, as well as mattress. All items at The Futon Shop are on special with sales up to 50% off. Also The Futon Shop has special dorm furniture shipping including sets.
But Futons have changed in the last 5 years, for the better. The new click clack modern futon sofa beds have been very popular among college students, but not exclusively to just dorm Furniture. Not only do dorm futons come in modern looking couches, but the covers are all washable and microfiber. Dorm futon sets sold by The Futon Shop come in many different sizes, arm designs, and finishes.
Another issue is sleeping. Sleeping can be one the biggest factors that make college challenging. From staying up all night studying for tests to uncomfortable bedding that is too firm or too soft, The Futon Shop hand makes mattresses right in San Francisco and can deliver or even ship to any college town. The Futon Shop makes over 33 green futon mattresses and can fit anyone comfort and quality needs.
Dorm Furniture can be overwhelming to figure out because of the small size of the dorm room and that the furniture must be looked at and decided by both roommates. The Futon Shop makes it simple with their huge range of sizes available with their dorm futons and with shipping included sets. This makes it easy to keep one's budget low and both roommates can pick different mattresses but get one bunk bed. The bunk beds also have storage for books and accessories.
The Futon Shop has over 33 futon mattresses, over 30 decorative covers, as well as many different sizes and finishes to their bunk beds, futon sofa frames, platform beds, and modern furniture designs. They also have storage that fits under their bunk beds, platform beds, and futon sofa couches. With the hundreds of options, The Futon Shop can help design any style that is needed for a dorm room and beyond.
For more information regarding the special back to school savings promotion, please check out our website or visit us at any of our locations.
About The Futon Shop:
The Futon Shop, a mattress manufacturer since 1976, is a vertically integrated retailer that manufactures 33 organic and green futon mattresses all hand made in San Francisco. The CEO Suzanne Diamond and her team of experts have dedicated their time and years of research to produce the greenest and most eco-friendly futon mattresses made in the USA.