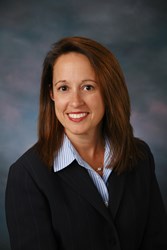 In the long run, our team wants to be the premier provider of short-term rehab for seniors in Shelby and surrounding counties.
Sidney, Ohio (PRWEB) November 13, 2013
A successful, experienced nursing home administrator has been promoted to lead Dorothy Love Retirement Community in Sidney, Ohio.
Tricia Atwood adopted the role of executive director Monday, Sept. 9, 2013.
Atwood has 17 years of long-term care leadership in Ohio, including five years as Dorothy Love's nursing home administrator and 11 years as the administrator at Piqua Manor.
She will be responsible for growth and development, outreach, budgets, quality assurance, staffing, board relations and the day-to-day management of the 294-acre campus, including its ranch and apartment homes for independent seniors, assisted living, nursing care, rehabilitation and memory care.
"Tricia is a resourceful, sure-handed leader. She sees the promise in people. She'll use her successes with staff, residents and neighbors to grow Dorothy Love in her new position," says OPRS Communities President Daniel J. O'Connor.
Atwood's five years at Dorothy Love gives her a meaningful perspective on the retirement community's operations and the amenities residents enjoy.
"This new role will give me the chance to do more strategic planning and be more involved with my independent living residents," says Atwood. "In the short-term, I'm focused on recruiting an administrator who will embrace Ohio Presbyterian Retirement Service's mission and increasing my activity in the community. In the long run, our team wants to be the premier provider of short-term rehab for seniors in Shelby and surrounding counties."
Atwood currently serves as treasurer for New Choices, Inc., and is a member of Redeemer Lutheran Church in Sidney.
She has a Bachelor of Business Administration and an associate degree in marketing management from Michigan's Northwood University. Born in Indiana, Atwood has called Indiana, Arkansas and Ohio home. She and her husband, Scott, have lived in Shelby County for 20 years. They have two children, 14-year-old Thomas and 10-year-old Katie.
Atwood can be reached at Dorothy Love Retirement Community, 3003 W. Cisco Rd., Sidney, Ohio 45365; 937-498-2391 or tatwood(at)dorothylove(dot)oprs(dot)org.
About Dorothy Love
Dorothy Love Retirement Community is one of 11 retirement communities owned and operated by OPRS Communities, a wholly-owned subsidiary of Ohio Presbyterian Retirement Services (OPRS), headquartered in Columbus. Since 1922, OPRS has defined the highest standards of quality of life for older adults. Each year, OPRS serves more than 90,000 people through its wholly owned subsidiaries OPRS Communities and Senior Independence. Another wholly owned subsidiary, the OPRS Foundation raises several million dollars annually to support charity care, special programs, capital expansion and endowment.