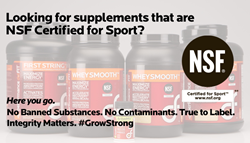 "Earning the NSF certified for sport stamp of approval is yet another example of dotFIT's commitment and dedication to providing the best nutritional products to athletes of all levels." - Dr. Mike Clark Founder and CEO of Fusionetics.
WESTLAKE VILLAGE, California (PRWEB) June 18, 2015
dotFIT Worldwide launches health, fitness and sports performance products which have undergone the NSF Certified for Sport program. In addition to evidence-based programming, formulas, and 3rd party testing, the NSF Certification ensures collegiate and professional athletes that they are protected from unwarranted suspensions due to banned substances in supplements. This is significant because the supplement industry has been under intense scrutiny by consumer watch groups as well as State Attorney Generals since several mass market products have recently been found to be fraudulent and potentially dangerous.
"The NSF Certification for Sport is a program that most others won't undergo because of cost and the potential to not pass. Not only are the contents tested to match the label, the program includes a test for banned substances that can creep into products during the manufacturing process because of unprotected, non-segregated mixing rooms or worse, deliberate spiking of illegal ingredients," said dotFIT Founder and CEO, Neal Spruce. "Collegiate and professional athletes, including my own son, need this assurance in order to protect themselves from unwarranted suspensions," he continued, "and every fitness enthusiast, athlete, or parents of young athletes, also want assurance the products they take to improve recovery, performance, and health are safe and effective. This is yet another 3rd party validation of purity and potency for the dotFIT product line." Spruce's son, Nelson, is a collegiate football player at the University of Colorado, and was among the leading receivers in the nation. dotFIT clients include many collegiate and professional teams, and is the nutrition solution for Fusionetics, a state-of-the-art Human Performance System utilized in the world of professional and collegiate athletics to help athletes improve their performance, speed their recovery and avoid future injury. "Earning the NSF certified for sport stamp of approval is yet another example of dotFIT's commitment and dedication to providing the best nutritional products to athletes of all levels," said Dr. Mike Clark Founder and CEO of Fusionetics.
"Our customers will be happy to discover that not only are they getting properly formulated and safe products, but comparable NSF certified products are at least 20-30% more expensive," Spruce added. Spruce introduced nutrition into the fitness industry more than 30 years ago. He was the creator of Nutritionalysis, the first nutrition program to be implemented in the health club environment, went on to found Apex Fitness, owned and built the National Academy of Sports Medicine with Dr. Mike Clark - today's largest provider of fitness and sports performance education, and today is CEO of dotFIT Worldwide.
"Every person should be able to experience success through sport and fitness, regardless of their level. Our partners in the health club industry are also committed to affording their members, high school athletes and weekend warriors the same product efficacy and safety. Providing evidence-based nutrition programs, including a line of NSF certified products through our certified fitness professionals is tied directly to my personal goal of saving and enhancing lives through fitness," said Spruce. "Properly made products can help everyone be more than they can be because we believe you can always grow stronger, play longer and live better, and everyone should be granted the peace of mind that what they're taking is safe and effective."
About dotFIT Worldwide:
Founded in 2008 by a seasoned team of leading fitness industry visionaries, dotFIT is a research and development company and the world's largest provider of evidence-based sport and fitness programming. The company's unique online platform, and nutrition solutions and products provide the proven essentials needed for people to eat, live and feel better. dotFIT's programs and products are delivered by sport, fitness and health professionals worldwide. This is the only program approved by the prestigious National Academy of Sports Medicine. For more information visit: http://www.dotFIT.com.
About Fusionetics:
Fusionetics is the Human Performance Company that integrates sports science, clinical application and cutting-edge technology to deliver efficient and effective solutions focused on decreasing injury, optimizing performance, and enhancing recovery. Through the leadership of Dr. Micheal A. Clark, scientists, sports medicine professionals, coaches, athletes and business leaders came together to help people improve their performance. Fusionetics is the result of their combined research, field-testing and the relentless pursuit to perfect human movement. The Fusionetics Human Performance System platforms were developed with every aspect of the systems and programs generated following an evidence-based model. It's been scientifically proven in the field, and it has been developed to be end user and practitioner friendly, and ultimately is end-user focused. For more information visit: http://www.Fusionetics.com.