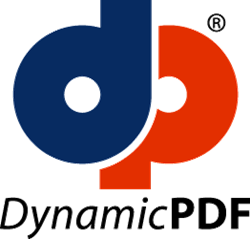 .NET Developers rejoice...a great SDK just got a whole lot better with DynamicPDF for .NET version 8 release.
COLUMBIA, MD (PRWEB) September 29, 2014
ceTe Software, creators of the .NET PDF SDK DynamicPDF, announced the release of the DynamicPDF Core Suite v8.0 for .NET. The Core Suite v8 for .NET packages the latest version of Generator for .NET, Merger for .NET and ReportWriter for .NET into one library for PDF creation and manipulation from C# or VB.NET code.
This major version 8 release incorporates many new features into the API. For a total of 25 supported Barcodes, version 8 has added two new Barcodes; MSI Barcode (also known as Modified Plessey) and RM4SCC Barcode (used by Royal Mail). Further enhancements to the PDF/A (archiving) support include the addition of the PDF/A-2 and PDF/A-3 standards. Document optimization (by way of combining duplicate image information) allows for the potential of substantially smaller file sizes in some cases. Flattening of form fields can now happen at the field level and support for strikethrough text as well as other enhancements to the Font rendering were all added in this latest version.
The DynamicPDF product line offers software developers solutions to their application's PDF needs including PDF creating, merging, filling, stamping, appending, printing, converting, rasterizing and viewing. All products are available with flexible licensing; some products include royalty-free developer licensing, server-based licensing or workstation-based licensing. Fully functional and never expiring evaluation versions are available for download freely on the company website.
About DynamicPDF Core Suite for .NET
DynamicPDF Core Suite for .NET bundles several DynamicPDF components, and makes them available at a reduced cost (when compared to purchasing them separately). Core Suite seamlessly integrates several related .NET tools into one assembly for easy development and deployment. The Core Suite includes DynamicPDF Generator for PDF creation, DynamicPDF Merger for filling and merging existing PDFs, DynamicPDF ReportWriter for easy PDF report generation.
About Dynamic PDF Generator for .NET
DynamicPDF Generator for .NET is a class library that can be used by software developers to programmatically create PDF documents from their applications. Build PDF documents with an API that is straight forward and easy to use. With DynamicPDF Generator, PDF documents can be generated straight to a file, byte array or web page. A free Evaluation version of Generator is available on the company website.
About Dynamic PDF Merger for .NET
DynamicPDF Merger for .NET allows software developers to interact with existing PDF documents from within their .NET code (C# or VB.NET). It can be used to append entire PDF documents or selected pages, stamp or watermark any existing PDF with text or images, split PDF documents into smaller documents, decrypt PDF documents or add encryption, clip, scale, and rotate the PDF pages, and much more. A free Evaluation version of Merger is available on the company website.
About DynamicPDF ReportWriter for .NET
DynamicPDF ReportWriter for .NET allows developers to easily create report PDFs. Using an included WYSIWYG designer, developers can layout the look and feel of the report (headers, body, footers) and database information and let ReportWriter take care of the rest. A free Evaluation version of ReportWriter is available on the company website.
About ceTe Software
ceTe Software has been developing quality software components and applications for customers since 1997. Their DynamicPDF product line has proven their commitment to delivering powerful yet easy to use libraries and their ability to respond to the changing needs of software developers. ceTe Software is located in Columbia, Maryland, USA and their website is http://www.dynamicpdf.com/.