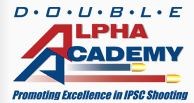 (PRWEB) September 25, 2013
This is how the overall score is calculated on a stage for each shooter. For decades Range Officers and staff have recorded the time by using a fairly large box that collected the time by "hearing" the shot noise and marking a "split" on the timer. Running around with these boxes, called Shot Timers, are a common scene worldwide. But not for long!
Double-Alpha Academy, a company based in the Netherlands, has recently launched their revolutionary SHOTMAXX wrist shot timer at the European Handgun Championships in Barcelos, Portugal.
It is no longer a messy box, it is a wrist worn watch which has a built-in fully functional shot timer along with a standard watch. But this is not all. The the interesting bit sits under the hood. SHOTMAXX has two input sensors – a microphone and an accelerometer.
The microphone works similar to the way other timers pick up shots – by an audible signal. But not quite the same – the audio shot detection algorithm does not solely reply on a certain sound level threshold, but it rather measures a few other parameters such as the time it takes the sound to reach its max level, the time elapsed for this sound level to drop back to "normal" and much more. While it sounds complicated, it ensures that the signal the device picks up is a signal generated by a shot fired and not by a random noise.
Here is the interesting part – the Accelerometer. SHOTMAXX incorporates a super sensitive accelerometer coupled with a sophisticated shot detection algorithm. Without going into too much technical jargon, the device detects a shot by the vibration footprint it leaves on the accelerometer while it cleverly disregards other hand movements, magazine reloads and any other erratic motions. This results with a unique capability of picking up shots fired by the shooter himself and disregarding shots fired in the vicinity of the shooter. In other words – shooters can practice freely with dozens of fellow shooters nearby, all firing at the same time. Shots will only be detected when they are fired by the wearer of the device and the rest is ignored.
To shake things up a bit further, SHOTMAXX also has a built-in Bluetooth chip which means that the timer can send and receive data from a 3rd party device such as tablets, PCs and smartphones. It seems that DAA have made SHOTMAXX very basic in the sense that it can hold only a single string of fire, but it can send out all the stored data, ie. Time and settings via bluetooth to any 3rd party device. The extracted data can be later manipulated as needed – allowing great flexibility and customisation options . Android and iOS developers will be happy to put their hands on the API's for sure.
Summary: SHOTMAXX can take practical shooting to the next level in terms of training and IPSC match scoring. It offers great flexibility and truly made to be used by each and every practical shooting savvy athlete. Time will tell whether the sport's federation will embrace this timer in future event.