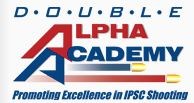 (PRWEB) January 14, 2014
Most sports and activities can expect an increase in interest from new participants at the start of the year. This is mainly thanks to New Year's Resolutions and the invigorated sense of purpose that comes with the arrival of a new calendar year. The usual suspects continue to dominate the top ten lists of popular resolutions and goals for the coming year. These invariably include such timeless objectives such as joining or re-enlisting at a fitness gym, losing weight, or learning to play an instrument. However, there is one lesser known activity that is expecting an influx of new recruits and that is practical shooting.
According to a leading shooting equipment and accessories retailer Double Alpha, their lesser known sport is experiencing a renewed level of interest that has not been seen in recent years. Speaking at a recent launch for their new selection of high-quality range bags, the company's head of communications stated, "Following a few high profile sporting, events such as the Olympics, where the profile of shooting was raised, newcomers are flocking to the sport in order to find out more and try something fun and practical".
While giving a demonstration of the retailer's new pistol range bag, the level of interest from the assembled spectators made it clear that there was some level of accuracy to his words. With a wide demographic showing an interest in the art and science of shooting for sport, it seems like the industry is readying itself for an increase in demand of their services that hasn't been seen in recent years.
Practical shooting has always had a core following of keen participants who together have helped to keep the cottage industry that has been built up around the sport afloat and ticking over. However, for the key manufacturers and product developers to really take their products to the next level, a healthy inflow of new enthusiasts and members are required to join the sport each year. This leads to increased sales, revenue and profit and means that more money and time can be invested into research and development, which in turn helps more products like the innovative Mr Bulletfeeder, find their way from the minds of inventors, through the development cycle, and onto the shelves of retailers like doublealpha.biz and their fellow compatriots.
With many more innovative products set to enter the marketplace this year, it seems that as long as the flow of interest from those unfamiliar with the sport continues to grow, the demand should be there to ensure that the new items are a resounding success and that the sport has a bright future, with many opportunities for growth and expansion. For those that are interested in learning more about the sport, locating a nearby practical shooting club or retailer is a good place to find out how to get started.