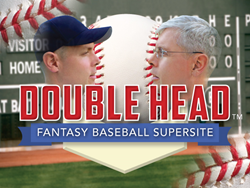 Madison, WI (PRWEB) October 23, 2014
With the World Series in full swing, fans of the Kansas City Royals and San Francisco Giants are brimming with excitement, as the fans of the other 28 Major League Baseball teams watch on with eager anticipation, awaiting free agency and the 2015 season to begin anew. And finally, fans and fantasy lovers have a fun and challenging new option in fantasy baseball. A new website called Double Head launched this month with two unique differences from the other fantasy baseball commissioner services. Double Head runs all leagues (public and private) using both rotisserie and head to head formats together. Double Head is also unveiling a brand new game to fantasy baseball which is dynamic, different, and appealing to both the fantasy expert as well as the regular fan who has never played fantasy baseball.
Steven Klawitter is the creator of Double Head and new game called Head 2 Show. He says, "I've played the same old fantasy rules and formats year after year. I wanted to create a user-friendly website and a great new baseball game that would both invigorate the fantasy aficionados, and captivate the loyal hometown fan. Baseball is a starting nine head to head tilt, and a 25-man full season grind. Fantasy baseball lovers should have both great styles of play in one league."
All Double Head leagues combine head to head and rotisserie challenging your inner GM to piece together a roster built to win single games and the entire 162 game slate. The new game Head 2 Show melds elements of a keeper league, draft, auction and payroll management all into one league. Head 2 Show also confronts many of the barriers that keep the fan of their favorite team from enjoying fantasy baseball, yet also introduces many new intricacies not used in other fantasy baseball game rules. Double Head incorporates a salary cap and real MLB player salaries and contracts (computing the average annual salary) so the fan can get in tune with real player salaries and not estimated dollar values supplied by a magazine. Head 2 Show offers what fans love about the off-season: bidding on the actual MLB free agent class each year. All Double Head leagues have an extra innings tie-breaker system for head to head, a unique trade system and trade analyzer, and year-round roster management. Most importantly, Double Head wants to make fantasy baseball fun and challenging, yet easy to understand and user friendly. Double Head will be implementing programming for owners to auto-pilot their roster; automatically inserting an active starting pitcher for that day or replacing a player on the DL. The home page will allow members to set their game-day and weekly rotisserie lineups, view box scores, combined standings and league leaders, as well as communicate in the chatter box with other league members,.
Right now through November 20, Double Head is attempting to fund on Kickstarter.com. If successful, they will bring baseball fans and fantasy owners their favorite fantasy sandlot to play on next March, for the 2015 season. If the Kickstarter campaign comes up short, Double Head will continue to build a great social media following so that fans and fantasy baseball lovers around the globe can enjoy their unique differences and new game for the 2016 baseball season.