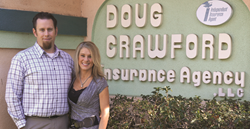 We are a one-stop-shop, as we customize the right insurance plan for each client.
Ojai, CA (PRWEB) June 05, 2014
Bryan Crawford of Doug Crawford Insurance Agency is a member of the Rotary Club of Ojai-West which is hosting the Ojai Wine Festival on Sunday, June 8th, 12-4pm at Lake Casitas Recreation Area in Ojai, California. Voted as one of the Best Wine and Food Festivals in Ventura County, the Ojai Wine Festival has raised over $1,025,000.00 since its inception in 1987. All net proceeds from The Ojai Wine Festival go to aid Rotary Community Service Projects.
Doug Crawford Insurance Agency, LLC is a family owned business and Ojai's only full service independent insurance agency in the valley writing policy for personal auto, homeowners, umbrella, commercial auto policies, business owner policies, general liability for contractors and businesses. They have served the community for over forty-three years and provide many types of insurance from multiple insurance carriers including Mercury Insurance Group, Travelers Insurance Group, Safeco Insurance, Hartford Insurance, Drive by Progressive, among others. Recently, the insurance agency announced a new carrier, Allied Insurance Company. "We are a one-stop-shop, as we customize the right insurance plan for each client," said Bryan Crawford.
In addition to serving with the Rotary Club for the past six years, Bryan Crawford is the Cub Master for the local Cub Scout Troop 3502 and The Mira Monte School's PTO Treasurer.
For wine festival tickets, please visit online at http://www.ojaiwinefestival.com/tickets/buy-tickets-now. Doug Crawford's office is located at 102 E Aliso St, Ojai, CA 93023. For a free insurance quote or for more information, please call 805-646-0171.
About Doug Crawford Insurance Agency, LLC
This is a locally owned and operated full service insurance agency offering auto insurance, home insurance, life insurance, health insurance, renter's insurance, commercial insurance and business policies.
About NALA™
The NALA is a full service marketing agency for local business owners offering online advertising, marketing and branding expertise, great business benefits, education and money-saving programs, as well as a charity program.
PR Contact: Tiffani Tendell
ttendell(at)thenala(dot)com
805.650.6121, ext. 361