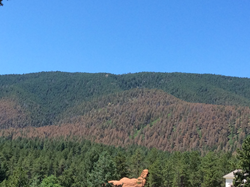 National Forest Service says outbreaks "appear to develop almost explosively"
Castle Rock, Colorado (PRWEB) July 12, 2015
National Forest Service says outbreaks "appear to develop almost explosively."
The adult Douglas-fir tussock moth is actually quite lovely with deep golden lower wings and tortoise shell-like upper wings. The moth's larvae, however, do ugly work. They feed on Douglas-fir needles moving from top to bottom, sometimes completely defoliating – or stripping - host trees in a single season.
"A decades-old tree can be stripped over the course of just a couple weeks," says Ed Ward, owner of SprayTech, Colorado commercial and residential tree-spraying specialists. "Trees can be susceptible to bark beetle attacks following defoliation or even die after repeated attacks."
The Douglas-fir tussock moth outbreak started in 2014 and reached epidemic levels on the slopes of Cheyenne Mountain and in the Rampart Range. That year, 530 acres of land were defoliated.
Several Front Range communities including Perry Park, Valley Park, Conifer, urban areas of Denver, Colorado Springs, Fort Collins, and forested subdivisions west of Boulder have shown infestations.
Even though the moths have a specific tree as part of their name, they aren't too picky when it comes to a meal.
"The Douglas-fir tussock moth also feed on Colorado blue spruces, white firs and even Ponderosa pines, especially if fir and pines are intermixed" says Ward.
Based on state and national forestry data, Douglas-fir tussock moth outbreaks typically last two to three years then largely disappear for several years. The last outbreak in Colorado occurred from 2004 to 2008 near Aspen and in the northern Rampart Range.
Natural predators include birds, parasitic wasps, the tachinid fly, spiders and a virus called wilt disease. But larvae appear during a time of plenty for their predators, so they're just one item on a plentiful menu this time of year. And wilt disease is a somewhat indiscriminate plant virus that comes with its own contagion issues. Often, professional spraying is required to contain the infestation and save trees.
As Ward notes, dead trees bring down property values at the very least, but a more serious issue is that dead trees are a fire hazard.
"Spraying infested trees can help break the cycle and help uninfested trees stay that way," he says. "Insecticides should be applied thoroughly, concentrating on treetops and is most effective against younger larvae. Now is the time to treat."
ABOUT SPRAYTECH
SprayTech is licensed by the Colorado Department of Agriculture for tree spraying and has treated hundreds of trees for Douglas-fir tussock moths. For information please contact Ed Ward at office(at)treesandweeds.com or by phone at (720)248-0000.