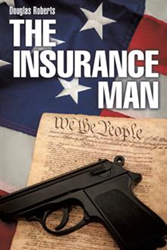 DETROIT (PRWEB) October 25, 2016
Douglas Roberts marks his debut in the literary limelight with a new novel featuring "The Insurance Man" (published by LifeRich Publishing). Thrilling and enthralling, this tale follows the missions of two individuals who must face insurmountable challenges to gain back their right, their people's safety and the country's freedom.
People are losing everything they believe in. The future of the country, the country many men and women fought for, is disappearing. Those elected to lead the country are not doing their jobs. The enemy is at every citizen's door and is walking through it. Is there a way to stop him? Can those with the training and the wherewithal do the job? "The Insurance Man" charts the gripping journey of Rich Coburn, a formerly active U.S. Navy SEAL, and Julie Lowe, a former FBI agent and former Marine, through their association with the company, each other, and their missions.
"We are in the middle of a presidential election which pits two sides, the left, and the right, against each other. People are very frustrated with what has happened over the last eight years. I believe that the ideas in the book give them a voice with which to agree," Roberts shares. He endeavors for readers to take away from his book the understanding "that they do not have to sit idle, and let the government make all of their decisions for them."
A snippet from "The Insurance Man" reads:
"Mr. Liberty, you never told me who recommended that we meet, or told me how I could be of service to you." Rich leaned forward, while looking Liberty directly in the eye. He reached into his jacket, and pulled out a brochure, outlining his services.
"Mr. Coburn, the individual who recommended you has a name you would not remember. He doesn't know you personally, just your record. When I tell you what I need, you will know what services you can provide. I am sure that your brochure does not cover the services I need."
"The Insurance Man"
By Douglas Roberts
Hardcover | 6 x 9in | 296 pages | ISBN 9781489708878
Softcover | 6 x 9in | 296 pages | ISBN 9781489708861
E-Book | 296 pages | ISBN 9781489708854
Available at Amazon and Barnes & Noble
About the Author
Born in South Boston, Massachusetts, Douglas Roberts attended the Boston Public Schools, and after a year at Northeastern University, left to join the U.S. Navy where he spent four and a half years in special operations. He is a Vietnam War veteran. Upon returning to the U.S., he went back to Northeastern, and then studied for his Master of Business Administration in finance. After spending four years in the securities industry, he entered the insurance industry, where he spent the next 38 years, retiring twice. He and his wife live in Michigan, when they are not on road trips throughout the country. His son is a physician in Pennsylvania, married to a veterinarian.
LifeRich Publishing, the strategic publishing partnership of Reader's Digest and Author Solutions, LLC, was created to provide all writers a platform for sharing their stories, recipes, advice and more. LifeRich authors will benefit from a wealth of editorial design, marketing and education resources, specially created by Reader's Digest editors for the enrichment of these LifeSmart individuals. Books can be published in print, ebook or audio formats, with additional distribution to up to 25 million Reader's Digest customers through its online properties. Follow @LifeRichPub on Twitter or "Like" us at facebook.com/LifeRichPublishing for the latest updates.