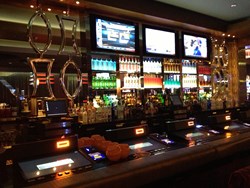 Dovetail offers its clients a great number of services beyond millwork. This is one of the many reasons we are successful and winning bids.
Erie, PA (PRWEB) August 18, 2013
Dovetail Gallery, an architectural millwork and custom design company, has offered custom lighting fabrication as part of it millwork package for several years. We expanded our services to help our clients who demand style, beauty with performance. Keeping this in-house also allows us to get done in a relatively short period of time.
We're able to quickly create component parts in plastics, wood, and metal. Dovetail Gallery's custom light fixtures give any building project a unique signature. Some of Dovetail Gallery's clients are thethe three Golden Nugget Casinos, Vic and Anthonys, Morton's Steakhouse and Ping Pong Restaurants.
Dovetail engages in the design, manufacturing, and distribution of superbly crafted woodwork, decorative and functional metalwork, and custom laminated cabinetry. Their products are utilized in various commercial architecture, millwork designs and home improvement. For over 25 years, Dovetail has delivered exceptional custom millwork services to clients throughout the Unites States and abroad. With a large, fully equipped staff of experienced millwork craftsmen, and a dynamic team of engineering and technical professionals, Dovetail is able to perfect any client's needs. To obtain a bid on personal or commercial project, please visit: http://www.dovetailgalleryinc.com