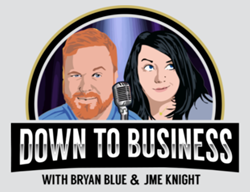 Most businesses are under capitalized and need a cash injection. We're the solution. - JB Yowell
FORT WORTH, Texas (PRWEB) August 18, 2020
Experienced and dynamic entrepreneurs JB Yowell and Jamie Knight take their hard-earned business expertise and use it to uplift aspiring entrepreneurs and small business owners alike. Given that their combined professional experience includes weathering market crashes and global pandemics as well as working in oil companies, theatre productions, veterinary clinics and comedy clubs, there's just about no business they haven't seen, and no business they can't help.
Down to Business takes a hard look at an entrepreneur's struggling business, and helps them retool, rehab, and rebrand to get them ready for the next level.
As JB Yowell says, the number one reason businesses fail is that they're undercapitalized, so this duo is doing everything in their power to help these entrepreneurs with the business plan they need to get investors everywhere falling over themselves to be a part of their future.
While entrepreneurs tend to have trouble with the same roadblocks, like "I don't have the money, so I can't do it" - JB and Jamie will help them break through with a plan to bring in the money, revitalize the business, and rethink how to use the tools they do have.
At the end of each episode, these reinvigorated businesses pitch a panel of investors for the chance to get an investment that'll ignite the next phase of their business.
Throughout the show, JB and Jamie will be pulling back the curtain on the colorful cast of characters in their own lives, from Jamie's husband's dream to pursue sports radio, to JB's daughter's imminent departure for the National Guard boot camp. Though they each have their own style, viewpoint, and circle of friends, family and employees, there's no difference that can get in the way of their friendship.
They also have different business strengths - JB builds up the business plan, living and breathing the financials, while Jamie's creative approach befits her role as the head of a marketing agency - and it's powerful to see two best friends who can work through their ideological differences and come together with their combined expertise to help others.
So whether Jamie is taking a hybrid barbershop/bar through a crash course rebrand in a day, or JB is running out to check on an oil well, they focus on the problems at hand and bring advice, experience, and heart to the table. They'll ask the hard questions: what's the marketing move? What changes are we making to the infrastructure? What's the next investing audible? And answer that in the game plan.
So no matter what the business is, whether you're an accountant trying to attract more clients, a new parent launching your own daycare, or you're selling chainsaw sculptures, JB and Jamie can lift you up to the next level by getting Down to Business.