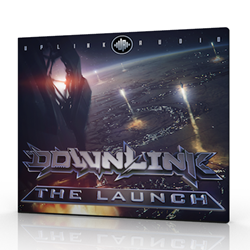 I wanted to give back to you guys in some way and show a little appreciation for you.
Kelowna, BC (PRWEB) October 25, 2013
Canadian dubstep producer Downlink has seen some major success as of late. After passing 400,000 fans on Facebook and successfully releasing his first EP "The Launch" on his new record label Uplink Audio he's feeling really grateful for the support his fans have been showing him.
"You guys have been there right from the start. You took me all the way from zero fans all the way up to 400,000 likes on Facebook," says Downlink in a video he released to his fans. "I just put out The Launch, launching my new label, my new EP, and you guys have been just great with the support. So I wanted to give back to you guys in some way and show a little appreciation for you."
Downlink put together a massive bundle of prizes that he's giving away to fans that enter his giveaway. The Super Fan Grand Prize includes a large assortment of merchandise including a pair of one-off custom painted Vans shoes created by design studio Shed Designs.
The winner of the grand prize will also receive a 30-minute Skype conversation one-on-one with the DJ as well as two VIP back-stage pass tickets to a concert at one of his upcoming tour stops.
"The contest has been great so far. The fans love it and I am so happy to be able to get some free stuff out to them. We have a buzz wall on the contest page and the fans are saying some really cool stuff about it," says Downlink. The giveaway has created a tremendous amount of buzz on the social networks. There has been over 14,000 entries and the contest web page has over 500 Facebook comments from fans sharing their experience with his music. The hashtag #TheLaunch on Twitter has been going viral and the contest is creating a lot of activity.
To find out more about Downlink's fan appreciation giveaway visit the contest page at http://thelaunchep.com. His new EP is available on both iTunes and Beatport and you can connect with him on Facebook at: http://www.facebook.com/downlink
About Downlink
Downlink has been punishing dancefloors all over the planet with his heavy brand of bass. With roots in Jungle & DnB, he is no stranger to the vile side of subsonic dance music and has set out to explore a frantic, adrenaline fuelled style, influenced by everything from heavy metal to astrophysics.
He is a Rottun Recordings regular, but has also released on some of the biggest labels in the game like Mau5trap and OWSLA. While consistently coming up with sick material time after time, he has gained DJ support from all of the biggest names in the scene.
His successes on the Beatport charts have been extraordinary. He managed to hold down 4 of the top 10 spots in dubstep at one time and has had multiple tracks hit #1 in both dubstep and drum n bass.
Recently Downlink's skills have landed him a prominent role in the production of legendary nu-metal band Korn's tenth studio album. His keen ear for sound even led him to being given the honour of mixing the album. He then went on to support the band on tour in America and Europe, playing to massive arenas, time and time again leaving crowds stunned with his energetic performance.
Downlink is not one to be pigeon-holed and is constantly on a quest to evolve and refine his sound. With this in mind, one thing will always remain constant - a pure unadulterated heavy listening experience.