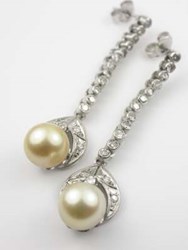 The Roaring Twenties that are currently being featured in 'Downton Abbey' were characterized by pearls and long earrings along with diamonds.
Atlanta, GA (PRWEB) November 06, 2013
"Downton Abbey" fans who are champing at the bit for season four of the British period drama to get underway can appease their on-hiatus addiction with a piece of jewelry that their favorite characters might wear. In honor of the series' upcoming retrospective special and fourth season, antique jewelry boutique Topazery has chosen its November spotlight piece. Throughout the month, "Downton Abbey" addicts who visit the site will find featured a pair of Art Deco pearl drop earrings from the 1920s that the Crawley ladies themselves might wear.
According to a recent MSN's TV News report, PBS plans a "Downton Abbey" preview special on December 1 to gear up for "the upcoming season, which begins Jan. 5." Titled "Return to Downton Abbey," the episode will be a retrospective that is also being "billed as 'a tantalizing taste'" of Season 4. In addition, it will take a look back at the "past three seasons" of the "wildly popular drama about British class and culture a century ago." And it just so happens that "Downton Abbey" "will move into the Roaring Twenties in the new season."
In celebration of all of this hoopla, Topazery Jewelry has selected for its November spotlight a pair of antique Art Deco pearl drop earrings from 1920. "The Roaring Twenties were characterized by pearls and long earrings along with diamond watches, beads and cocktail rings," explains Topazery's spokesperson. "The Art Deco earrings we've chosen to showcase combine the 1920s' long dangle look with drop pearls and a few diamonds thrown in for good measure."
Careful observers of "Downton Abbey," in fact, may have already noticed some of their favorite characters sporting similar earrings. Indeed, the Countess of Grantham, Cora Crawley, once wore freshwater pearl drop earrings and Lady Sybil Crawley has been seen in pearl cluster drop earrings. As the series moves full steam into the Roaring Twenties decade, fans can only expect to see more jewelry of this variety.
The pair of Art Deco pearl drop earrings circa 1920 that Topazery has chosen as its November spotlight item dramatically dangle from the lobe. Their pearls appear suspended in platinum and streams of diamonds, traits which are sure to attract the aristocratic yen of any wannabe "Downton Abbey" lady.
For more information on how to add a touch of "Downton Abbey" mania to a jewelry wardrobe, contact Jan Walden at (678) 528-8901. To browse Topazery Jewelry's full selection of Roaring Twenties Art Deco earrings, bracelets, rings, necklaces, pins and brooches, visit the company online at http://www.topazery.com/.