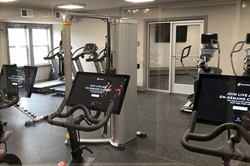 "Many younger working adults and older adults who used to own a home want the freedom that comes from renting in a professionally managed building, without the burden of home maintenance and repair, a mortgage or homeowner association dues." Nicholas Minoia, DP Property Management
MONTVILLE, N.J. (PRWEB) May 08, 2019
According to the U.S. Census Bureau, home ownership fell from 69.4% to 64.2% between 2004 and 2018, with an associated rise in renting households from 31.2% in 2006 to 36.6% in 2016. The National Apartment Association has predicted apartment occupancy rates of 94-95% in 2019 and rent growth of 2-3% on average, with continued strong demand for apartments this year, even with more supply coming online.
Reflecting that shift away from home ownership to renting, New Jersey's residential rental market is hot, with an explosion of new construction of apartment buildings across the northern and central parts of the state. Among the newest is Summit Court, a luxury apartment community in Union.
Managed by DP Property Management, LLC in Montville, Summit Court is meeting the market demand for more rental units, as well as resident expectations for upscale on-site amenities—the type of amenities that are attracting the millennials and empty nesters fueling New Jersey's luxury rental market.
"Many younger working adults and older adults who used to own a home want the freedom that comes from renting in a professionally managed building, without the burden of home maintenance and repair, a mortgage or homeowner association dues," said Nicholas Minoia, founder and principal of DP Property Management, an affiliate of Diversified Properties, LLC.
Minoia noted that rising mortgage interest rates and home prices, coupled with relatively tight housing inventory, are other factors driving the rental trend. And, in a high-property tax state like New Jersey, most people are finding renting to be more desirable, especially in apartment communities that include today's highly-sought-after amenities such as yoga and fitness studios, smart locks and connected security measures, and charging stations for electric vehicles.
"Millennials expect luxury units with the latest technology, in locations that make for easy commutes, and empty nesters want high-end features that make the transition from house to apartment an easy one," noted Minoia." Proximity and easy access to New York City for work or leisure is also something renters desire."
Summit Court, located at 450 Clermont Terrace in Union, is a master planned rental community, within a mile of NJ Transit's Union rail station and Kean University, with easy access to major highways. Phase I offers spacious one- and two-bedroom apartments with in-demand, contemporary features such as open-concept kitchens, washer/dryer, large closet and private balconies. The building's amenities include a well-equipped strength & cardio studio with Peloton® cycles; smart security system; community lounge with Wi-Fi, game area, catering kitchen and gathering space; and a large courtyard with a fire pit, gas grills and outdoor dining areas. Groundbreaking for the clubhouse and pool is scheduled for this spring.
"Our residents can be in midtown Manhattan in 45 minutes by train, so they have the best of all worlds in terms of convenient city access and luxury living," said Minoia. "As more people choose upscale rentals over home ownership, Summit Court will continue to meet the expectations of discerning renters with amenities that enhance our residents' lifestyle."
To learn more about Summit Court, visit http://www.summitcourtunion.com