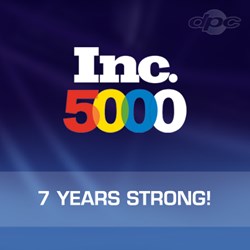 The award is a testament to our ongoing efforts to expand in a way that best serves both our clients and our candidates.
Exeter, NH (PRWEB) August 28, 2013
Digital Prospectors Corp., an IT staffing agency based out of Exeter, New Hampshire, has made the prestigious Inc. 5000 list of the fastest-growing private companies in the United States for the seventh consecutive year.
This achievement places DPC among an elite group that has, over the years, included companies such as Microsoft, Zappos.com, Timberland, Intuit, Jamba Juice, Oracle, and more.
"We're honored to have been included on this prestigious list for the seventh year in a row," said Jessica Catino, President at Digital Prospectors Corp. "The award is a testament to our ongoing efforts to expand in a way that best serves both our clients and our candidates. We look forward to our continued emergence as a leader in the IT staffing industry, and would like to thank Inc. 5000 for their recognition."
NYC based Inc. magazine is a monthly publication focused on celebrating growing companies in the United States. The Inc. 5000 is their annual award that ranks the top 5000 fastest-growing private companies by overall revenue growth over a three-year period.
To qualify, companies must be privately held, independent, and U.S.-based. Revenue in the initial year must have been at least $200,000, and revenue in the most recent year must have been at least $2 million.
With a current work force of more than 170 employees engaged at client sites across the United States, DPC saw an annual revenue of $29M+ in 2012; well exceeding the minimum requirements for consideration.
About Inc.
For more than 30 years, Inc. magazine has been the premier print publication for entrepreneurs and business owners. In 1982, the company introduced the Inc. 500 to showcase the fastest-growing privately held companies in the United States. Twenty-five years later Inc. has expanded the list to the Inc. 5000 to help readers get a deeper understanding of the entrepreneurial landscape.
In 1996, Inc. launched Inc.com, a hub for entrepreneurs replete with "small business ideas, information, and inspiration, as well as practical advice from those who have done it before."
About DPC
With clients in industries such as aerospace, defense, healthcare and more, DPC has become known for its success in recruiting and placing engineers and IT professionals in the software, firmware, hardware, mechanical and electrical engineering markets.
DPC's primary technical focus areas are in embedded systems engineering, health information systems, and web services/cloud computing. Since DPC's founding in 1999, the firm has been recognized as a "Best Company To Work For" by Business NH magazine, a "Top IT Services Company" by Inc. Magazine, a "Most Reliable Staffing Agency" in Forbes Magazine, a "Top Ranked Staffing Firm" and "Fastest Growing Staffing Firm" by Staffing Industry Analysts. Please visit http://www.dpcit.com to learn more.
Media Contact: Jessica Catino, President, 603.772.2700 x 205 or jcatino(at)dpcit(dot)com.