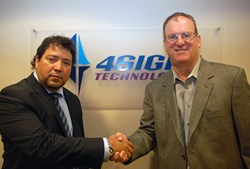 We chose DPR Group for its proven track record of effectively positioning technology companies for success and delivering significant visibility within key markets. -Hernan Clarke, CEO, 4Sight
Germantown, MD (PRWEB) December 12, 2013
DPR Group, Inc., a full-service public relations and marketing agency serving a broad range of business and technology companies, announces today that Boston-based 4Sight Technologies, Inc. has selected the firm to increase its brand awareness and recognition across the Americas and Europe. DPR Group will develop and implement targeted and strategic public and media relations campaigns and provide marketing support for 4Sight Technologies, a global leader in Business Intelligence (BI), Resource Optimization, and Continuous Improvement Enterprise Software and IT Professional services.
Hernan Clarke, CEO, 4Sight Technologies, said, "We chose DPR Group for its proven track record of effectively positioning technology companies for success and delivering significant visibility within key markets. With a corporate footprint that stretches worldwide serving industry-leading customers in banking and finance, insurance, aerospace, transportation, defense and government, we realized the need for an experienced firm like DPR Group to take us to the next level and are eager to grow our relationship."
4Sight Technologies is a global enterprise software and IT professional services company with offices across the Americas and Europe. Founded in 1997, the company combines decades of experience and expertise in cutting-edge software development to deliver technology solutions including its em360 Enterprise Performance and Optimization Platform.
Dan Demaree, president and CEO of DPR Group, said, "We are pleased to represent 4Sight Technologies, a company that has done outstanding work for its global enterprise customers. By developing effective public relations and marketing strategies, we will work to position 4Sight as a thought leader in business intelligence, resource optimization and quality management, ultimately increasing awareness of its products and services, and extending its reputation as a prominent technology innovator."
About DPR Group, Inc.
DPR Group is a full-service agency that specializes in providing public relations and marketing support services to a broad range of technology companies. Founded in 1998, the firm has a proven track record representing both privately held and publicly traded companies in software and IT, manufacturing, clean tech, government contracting, supply chain and logistics, telecommunications, business consulting and specialized services. Headquartered near Washington, D.C., DPR Group has the experience and industry contacts to successfully launch new companies and products, as well as significantly increase the name recognition of larger, more established companies. For more information, call 1-240-686-1000, or visit: http://www.dprgroup.com.