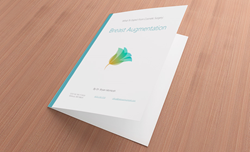 We care deeply about each and every one of our patients. Educating them about their procedure is a manifestation of that.
Bellevue, WA (PRWEB) August 03, 2014
The recently released eBook from Dr. Bryan McIntosh aims to educate women considering breast augmentation surgery about the cosmetic procedure—what to expect before, during, and after.
This informative eBook guide, available for free download on Dr. Bryan McIntosh's website, addresses all the common concerns women have regarding the breast augmentation eBook, as well as providing a full range of information that women may not expect.
"Our goal is to encourage women to fully understand all of the details of their cosmetic procedures before they receive treatment—this allows them to properly prepare their bodies and homes for the procedure and recovery period, and helps them develop," Dr. Bryan McIntosh explains.
To learn more about the various cosmetic surgical procedures, including breast augmentation, breast lifts, breast reconstruction, and other services offered at Dr. McIntosh's office in Bellevue WA, follow this link: http://www.yourseattleplasticsurgery.com/
The eBook offers two chapters, the first devoted to helping patients prepare their health, homes, and expectations for the procedure, including guidance on how to find a trustworthy cosmetic surgeon. The second chapter outlines the breast augmentation procedure, from initial consultation to the final check up.
"We care deeply about each and every one of our patients. We firmly believe that one of the keys to a successful cosmetic procedure is communication and trust between doctor and patient. Education about the procedures themselves are a part of that," Dr. Bryan McIntosh says.
About Dr. Bryan McIntosh
Dr. Bryan McIntosh, of the Greater Seattle area, is a certified plastic surgeon. He is a respected member of the American Plastic Surgeon Association. He greatly enjoys his work, which he considers fulfilling and energizing. He specializes in reconstructive surgeries for cancer and trauma victims. He resides and practices in Bellevue, WA.
Dr. Bryan McIntosh
12301 NE 10th Place, Suite 100
Bellevue, WA 98005
Phone: (425) 318-7565