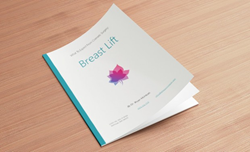 Bellevue, WA (PRWEB) November 25, 2014
Any women considering the breast lift procedure should take advantage of the eBook provided by Dr. Bryan McIntosh of Bellevue, WA. This free download guides women through how to know whether they are a good candidate for the procedure, what to expect from the procedure, how to prepare, how to recover well, and any possible risks.
This guide is one part of a series that Dr. McIntosh has been producing for his patients, covering popular cosmetic surgeries such as the breast augmentation (or breast implants), tummy tuck (abdominoplasty), and blepharoplasty (eyelid surgery). He will soon add rhinoplasty (nose surgery) to his collection as well.
"I feel that the most important thing for my patients is that they are able to understand and prepare for their procedure well. I consider the breast lift surgery a team effort — good communication, correct expectations for recovery and the surgery, combined with my expertise, will yield an amazing result. This is what I desire for all patients," says Dr. McIntosh.
To learn more about Dr. McIntosh's breast lift and breast augmentation surgeries, visit his website by following this link: http://www.yourseattleplasticsurgery.com/breast-surgery/
The breast lift procedure is, according to Dr. McIntosh, safe and affordable, and it is one of the most popular cosmetic surgeries. The breast tissue that is sagging or drooping is simply lifted back up and sutured in place. This allows it to retain both the natural shape and softness of the original (younger) breast.
Patients of any cosmetic surgeon that are hoping to get a breast lift will greatly benefit from reading Dr. McIntosh's free eBook.
About Dr. Bryan McIntosh
Dr. Bryan McIntosh, of the Greater Seattle area, is a certified plastic surgeon. He is a respected member of the American Plastic Surgeon Association. He greatly enjoys his work, which he considers fulfilling and energizing. He specializes in reconstructive surgeries for cancer and trauma victims. He resides and practices in Bellevue, WA.
Dr. Bryan McIntosh
12301 NE 10th Place, Suite 100
Bellevue, WA 98005
Phone: (425) 318-7565