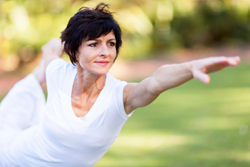 There are several procedures that can be performed following weight loss to help women bounce back to their ideal body shape.
Bellevue, WA (PRWEB) February 14, 2015
"All women dream of regaining that slim figure they remember from back in their earlier years," Dr. McIntosh explains in his recently released article. "However, many women wonder if those slim jeans will truly ever fit again."
New Year's resolution weight loss goals can make individuals, and especially women, excellent candidates for cosmetic surgery procedures, according to Dr. Bryan McIntosh.
The article describes how many women, young, middle-aged, and elderly alike, can meet their weight loss goals and still find that stubborn fat persists in precisely the wrong areas, remaining unaffected by dieting and exercise.
"Some women aren't sure if their bodies are truly capable of 'bouncing back' to that original full-breast, tight-tummy, and slim-arm appearance," the article explains, "So, Dr. McIntosh recommends several procedures that can be done after weight loss in order to help women bounce back to their ideal body shape."
According to the article, tummy tucks, breast augmentation, and liposuction are recommended procedures for women following moderate or extensive weight loss. Encouraging women to not settle for simply an acceptable body shape, the article describes how these easy, affordable surgeries can boost the self-image and self-confidence of ladies looking to regain their slim and sensual figure.
"Dr. Bryan McIntosh has served women of all shapes and sizes over the years, and his expertise consistently makes women's doubtful dreams come true," the article states.
For those interested in tummy tucks, breast augmentation, and/or liposuction, Dr. McIntosh provides complimentary consultations where he and his potential patients can sit down and discuss their goals, suggested procedures, and answer questions.
To schedule a consultation with Dr. Bryan McIntosh, simply visit his website: http://www.drbryanmcintosh.com/consultation-request
About Dr. Bryan McIntosh
Dr. Bryan McIntosh, of the Greater Seattle area, is a plastic surgeon. He greatly enjoys his work, which he considers fulfilling and energizing. He specializes in cosmetic surgeries including breast augmentations and tummy tucks. He practices in Bellevue, WA.
Dr. Bryan McIntosh
12301 NE 10th Place, Suite 101
Bellevue, WA 98005
Phone: (425) 318-7565
http://www.yourseattleplasticsurgery.com/