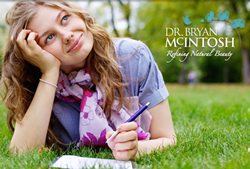 Bellevue, WA (PRWEB) May 07, 2014
Motherhood comes with a lot stress, headaches, joy, pain, wrinkles and sagging. Mothers sacrifice so much for their children, and it is only right that they be recognized for all they've done. What better way to do this than to give them a day of pampering by one of the best cosmetic surgeons in the entire Pacific Northwest?
At least, this is how Bellevue-based cosmetic surgeon Dr. Bryan McIntosh and his staff feel. In order to properly celebrate Mother's Day, Dr. Bryan is offering a one-of-a-kind contest for mothers and their daughters, featuring a grand prize giveaway of free cosmetic facial procedures. To be eligible, all entries must be submitted using their online contest entry form by 5:00pm on Friday, May 9th, 2014. The winner will be chosen and notified on Saturday, May 10th—just in time for Mother's Day.
Enter the contest here: http://www.drbryanmcintosh.com/mothers-day-contest.
The Grand Prize winning mother/daughter pair will both receive 20 units of Botox injections, administered by Dr. McIntosh. In addition, they will receive a full syringe of Juvederm facial filler. Finally, both ladies will receive a complete facial by Dana, the Aesthetician at Dr. McIntosh's office.
To enter the contest, participants should write a brief letter to Dr. Bryan McIntosh's office explaining why they feel that their mother should receive a day of pampering from Dr. McIntosh and his staff. Upon reviewing all of the submissions, Dr. McIntosh will choose one letter to be the winner! Just so that there is no participant left out, every applicant who submits a letter will also receive a $25 Gift Certificate good toward any cosmetic procedure or service that is offered by Dr. McIntosh.
If either mother or daughter desire to receive further treatments of aesthetic skin care products, spa services, or additional units of Botox or Juvederm, they will receive special discounted pricing. This discount may be used during the initial treatment or be saved to be used at a later date.
To read the details and determine eligibility for entry, read more here or call their office at (425) 318-7626.
About Dr. Bryan McIntosh
Dr. Bryan McIntosh, of the Greater Seattle area, is a certified plastic surgeon. He is a respected member of the American Plastic Surgeon Association. He greatly enjoys his work, which he considers fulfilling and energizing. He specializes in reconstructive surgeries for cancer and trauma victims. He resides and practices in Bellevue, WA.
Dr. Bryan McIntosh
12301 NE 10th Place, Suite 100
Bellevue, WA 98005
Phone: (425) 318-7565
http://www.yourseattleplasticsurgery.com/