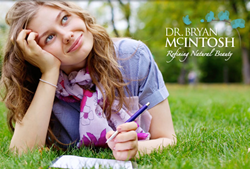 I specialize in creating a thrill for each patient that can only be experienced after their body, and by extension their life, is transformed through surgery or non-surgical medical treatment.
(PRWEB) May 09, 2014
Mother's Day is a special time of the year for all families. In recognition of their sacrifice, persistence, and patience, many local businesses offer special promotions to treat mothers to something special. Dr. Bryan McIntosh, a Bellevue, Washington based cosmetic surgeon, has decided to treat mothers to a $25 gift card that can be applied to any cosmetic surgery. In addition, both mothers and daughters will be automatically entered into the Grand Prize giveaway of free Botox injections and Juvederm facial fillers. The winners will also receive special discounted pricing on any further treatments requested.
To enter receive a free gift card and be entered into the contest: http://www.drbryanmcintosh.com/mothers-day-contest
In order to receive this gift, Dr. McIntosh requests that daughters write a brief letter explaining why they think their mother deserves the gift of cosmetic surgery. They will be accepting entry forms until 5:00pm on Friday, May 9th, 2014. Upon Saturday May 10th, Dr. Bryan McIntosh and his staff will choose the mother and daughter pair that they find most deserving and notify them—just in time for a Mother's Day surprise!
About Dr. Bryan McIntosh
Dr. Bryan McIntosh, of the Greater Seattle area, is a certified plastic surgeon. He is a respected member of the American Plastic Surgeon Association. He greatly enjoys his work, which he considers fulfilling and energizing. He specializes in reconstructive surgeries for cancer and trauma victims. He resides and practices in Bellevue, WA.
Dr. Bryan McIntosh
12301 NE 10th Place, Suite 100
Bellevue, WA 98005
Phone: (425) 318-7565