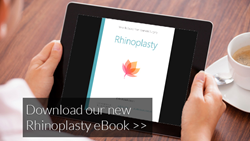 The rhinoplasty is one of the safest and most widely performed cosmetic surgeries in the United States.
Bellevue, WA (PRWEB) December 16, 2014
Dr. Bryan McIntosh has released yet another free guide to cosmetic surgery, this time highlighting the well-known and commonly-done procedure, rhinoplasty.
His ebook, The Ultimate Guide to Rhinoplasty, covers, as his previous eBooks do, the basic topics of how to find a plastic surgeon, what to expect before, during, and after the procedure, who qualifies as a good candidate, and other important aspects of the procedure.
One of the things that Dr. McIntosh focuses on is that his patients should have a thorough knowledge of the procedure and the recovery. Having this knowledge will help them to prepare for the surgery, know the risks involved, and know how to recover well.
Preparation requirements include cessation of smoking, eating well before and after surgery, and disclosing all medications that are currently being taken by the patient. Such measures will help to protect the patient from health risks as they recover.
To download the free eBook guide to the rhinoplasty procedure, follow this link: http://www.yourseattleplasticsurgery.com/ultimate-guide-rhinoplasty/
For those wondering if a rhinoplasty may be an option for them, Dr. McIntosh explains what a rhinoplasty surgery can modify,
"Rhinoplasty can make the nose larger or small, correct angles or bumps, adjust contours to a more pleasing shape, or alter the size or shape of the tip of the nose. Conditions such as the deviated septum may also be corrected with a skilled plastic surgery performing a rhinoplasty procedure."
Anyone feeling self-conscious about the appearance of their nose or knows someone considering a rhinoplasty procedure should certainly consider this read worth their while.
About Dr. Bryan McIntosh
Dr. Bryan McIntosh, of the Greater Seattle area, is a certified plastic surgeon. He is a respected member of the American Plastic Surgeon Association. He greatly enjoys his work, which he considers fulfilling and energizing. He specializes in reconstructive surgeries for cancer and trauma victims. He resides and practices in Bellevue, WA.
Dr. Bryan McIntosh
12301 NE 10th Place, Suite 100
Bellevue, WA 98005
Phone: (425) 318-7565