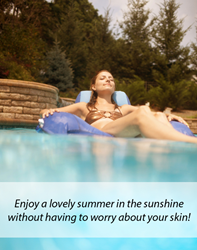 It's important to be cautious about exposing tender healing skin to the sun—choose only summer safe cosmetic surgeries!
(PRWEB) July 12, 2014
A recent article released by Seattle's well known plastic surgeon, Dr. Bryan McIntosh, provides a trio of suggestions for those seeking cosmetic surgical procedures in summer months.
As warm days are rapidly approaching and the heat begins to enliven the rainy Pacific Northwest, many people are turning their attention to their summer clothing, realizing that they didn't work out as much during the winter as they had planned.
This can cause a sudden surge of people eager to look their best for their summer vacations, and the article confirms that many of them find themselves considering plastic surgery.
Contact Dr. Bryan McIntosh to schedule your free plastic surgery consultation: http://www.drbryanmcintosh.com/contact-us/
"While summer can be a wonderful time for plastic surgery procedures, as many have vacations planned in which they can take time to relax and recover, it's important to be cautious about exposing tender healing tissue to excessive sunlight," Dr. Bryan McIntosh cautions in his article.
He explains that, because most cosmetic procedures will be performed on a visible part of the body, such a face lift, breast augmentation, or tummy tuck, the healing skin will be exposed to the sun during the summer months. Unfortunately, the skin following surgery is tender and too much harsh sun exposure can delay healing or cause damage.
Because of this, cosmetic procedures in less visible areas of the body are preferred. Dr. Bryan McIntosh offers these suggestions for summer surgeries—labiaplasty, liposuction, and the scrotum lift.
"These affordable procedures have quick recoveries and allow the patients to soak up the sunshine and heat while they recuperate," the article explains, before going on to give details of each individual procedure.
About Dr. Bryan McIntosh
Dr. Bryan McIntosh, of the Greater Seattle area, is a certified plastic surgeon. He is a respected member of the American Plastic Surgeon Association. He greatly enjoys his work, which he considers fulfilling and energizing. He specializes in reconstructive surgeries for cancer and trauma victims. He resides and practices in Bellevue, WA.
Dr. Bryan McIntosh
12301 NE 10th Place, Suite 100
Bellevue, WA 98005
Phone: (425) 318-7565