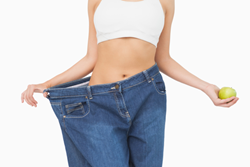 The tummy tuck procedure is safe, effective and performed on thousands of people each year, including many celebrities.
Bellevue, WA (PRWEB) October 27, 2014
"The tummy tuck procedure is one of the ten most commonly performed plastic surgery procedures in the United States, with over 111,000 of these performed in the year 2013 alone," says an article released by Dr. Bryan McIntosh on September 22, 2014.
The article addresses the reasons that women and men get tummy tucks and why this is a healthy and viable option for them. While the article admits that there are more legitimate reasons than those listed in their article, they give the three most common reasons that people seek out an abdominoplasty procedure.
So, who is getting the tummy tuck procedure and why? The article lists several reasons, such as prominent stretch marks, skin "curtains," and excess skin and fat tissue around the abdomen that refuse to respond to dieting and exercise.
These conditions are indicative of the need for a tummy tuck surgery. Generally, these indications are due to a massive weight loss or following multiple pregnancies.
To find out if you might be a good candidate for a tummy tuck procedure or to schedule a free consultation with Dr. McIntosh, go to his website: http://www.yourseattleplasticsurgery.com/cosmetic-surgery/tummy-tuck/
Dr. McIntosh explains that many people experience extreme frustration and insecurity about their bodies when their hard work refuses to show results.
While dieting and exercise can reduce weight significantly and greatly enhance personal health and quality of life, his article explains that there are cases in which the skin and tissues have been so stretched that they will never be able to retract back into place without surgical assistance.
Such individuals don't have to give up though—the tummy tuck procedure is safe, effective, and performed on thousands of people each year, including many well-known celebrities.
For those unwilling to resolve the weight goals with something other than what they'd wanted, a tummy tuck surgery might just be in order.
About Dr. Bryan McIntosh
Dr. Bryan McIntosh, of the Greater Seattle area, is a certified plastic surgeon. He is a respected member of the American Plastic Surgeon Association. He greatly enjoys his work, which he considers fulfilling and energizing. He specializes in reconstructive surgeries for cancer and trauma victims. He resides and practices in Bellevue, WA.
Dr. Bryan McIntosh
12301 NE 10th Place, Suite 100
Bellevue, WA 98005
Phone: (425) 318-7565
http://www.yourseattleplasticsurgery.com/