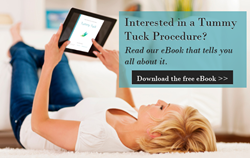 The tummy tuck procedure is a safe and affordable option for anyone that hasn't been able to rid themselves of stubborn tummy fat.
Bellevue, WA (PRWEB) August 28, 2014
Dr. Bryan McIntosh of Bellevue, WA has newly released a free downloadable ebook guide to the tummy tuck cosmetic procedure, leading women through how to prepare themselves for surgery, the procedure itself, and how to recover well afterwards.
The eBook provides helpful tips and candid explanations. Dr. McIntosh also discusses how to have accurate expectations of the procedure and how to help ensure that the procedure is as successful as possible.
To learn more about Dr. McIntosh's practice and services, visit his website: http://www.drbryanmcintosh.com/.
"The tummy tuck, or abdominoplasty procedure, has been growing enormously in popularity in recent years," says Dr. McIntosh, "And it's easy to understand why—it's a safe and affordable option for women that have been simply unable to rid themselves of loose or excess skin around their tummies."
The eBook reminds men and women considering cosmetic surgery of any kind that the first step is to find a trustworthy plastic surgeon with plenty of experience. The article also advises that candidates make sure that make an effort to improve their health before undergoing a procedure.
"Experiencing concerns about one's appearance is normal. But why leave it at that?" Dr. McIntosh asks. "Why be one of the hundreds of thousands each year that choose to continue living with low self-esteem and self-conscious thoughts, or possibly even physical limitations?" Dr. McIntosh offers these individuals an alternative—safe and affordable cosmetic tummy tuck surgery.
About Dr. Bryan McIntosh
Dr. Bryan McIntosh, of the Greater Seattle area, is a certified plastic surgeon. He is a respected member of the American Plastic Surgeon Association. He greatly enjoys his work, which he considers fulfilling and energizing. He specializes in reconstructive surgeries for cancer and trauma victims. He resides and practices in Bellevue, WA.
Dr. Bryan McIntosh
12301 NE 10th Place, Suite 100
Bellevue, WA 98005
Phone: (425) 318-7565