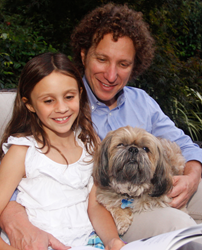 It is an honor to be recognized and included in this incredible list of nominees.
Oakland, CA (PRWEB) August 04, 2015
Dr. Gary Richter, Montclair Veterinary Hospital, Oakland, CA, was named as one of 20 finalists for America's Favorite Veterinarian. The contest is put on by the American Veterinary Medical Foundation (AVMF).
Dr. Richter was chosen by a judging committee from 500 nominees. Nominees were evaluated on community involvement, ethical behavior, passion for profession, and their connections to pets and their owners. The 500 veterinarians were nominated by their clients in a brief essay why their veterinarian deserves recognition.
"This is an incredible honor," said Dr. Richter. "My life-long dream was to be a veterinarian and to help animals. I care about my patients and they inspire me to improve my approach to veterinary medicine with a forward-thinking perspective."
Dr. Richter is the only candidate from Oakland and the only holistic veterinarian finalist. To vote for Dr. Richter, please visit http://ThePetConcierge.com/CastYourVote. If you'd like to sign up for daily reminders, visit http://ThePetConcierge.com/VoteForGary.
The America's Favorite Veterinarian contest was created three years ago to celebrate the important work veterinarians do every day to preserve and protect the health and welfare of animals. The AVMF is the nation's only veterinarian-directed animal charity and is dedicated to advancing the well-being of our pets. It's the charitable arm of the AVMA.
America's Favorite Veterinarian will be announced in September on their website, http://www.americasfavoriteveterinarian.org/. The winner will receive a $500 cash prize, a year feature on the AVMF website and a community celebration at his or her clinic. In addition, the nominator of the selected veterinarian will receive a special "pet lovers" gift basket.
Voters also will get to show their love of animals by donating to the Veterinary Care Charitable Fund (VCCF), which helps veterinarians provide free or discounted services to clients facing personal hardships.
About Dr. Richter: Gary Richter, MS, DVM is certified in veterinary acupuncture as well as veterinary chiropractic. As owner and medical director of Montclair Veterinary Hospital and Holistic Veterinary Care in Oakland, California, Dr. Richter understands the benefits of both conventional and holistic treatment methods. His professional goal is to provide a center where pets can receive effective holistic and regenerative therapies in conjunction with the highest quality Western medical care. He also places great emphasis on the well-being of the pet owner, knowing that a sick pet can cause great strain and strong emotions. He instills this understanding in his staff and works to ensure that both pet and owner are treated with the utmost care and respect.
About The AVMF: The American Veterinary Medical Foundation (AVMF) is the charitable arm of the American Veterinary Medical Association (AVMA). For over 50 years the AVMF has been dedicated to embracing and advancing the well-being and medical care of animals. Charitable contributions and support to the Foundation help veterinarians care for animals. Initiatives include: Humane Outreach-Animal Welfare, Education and Public Awareness, Animal Health Research Support, Student Enhancement and Support of the American Veterinary Medical Association and its Initiatives. The AVMF, a four-time four-star rated nonprofit by Charity Navigator, has awarded more than $10 million in the last decade.