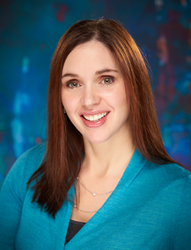 I really enjoy working with my patients during some of the biggest parts of their lives.
Columbus, OH (PRWEB) April 07, 2014
Women's health specialist, Dr. Bethany Hahn will join Columbus Obstetricians-Gynecologists, Inc. to provide a full range of gynecologic care for every stage of a woman's life. Dr. Hahn is accepting new patients at Columbus Obstetricians-Gynecologists, Inc. in the Dublin and Grove City offices.
An Ohio native, Dr. Hahn grew up in Canton and received a Bachelor of Science in Biology with minors in chemistry and Spanish from the University of Dayton. She then went on to attend medical school at the University Of Toledo College Of Medicine, and completed her OB/GYN Residency at the Ohio State University Hospitals. She always had an interest in the sciences, and in particular biology, which sparked her interest in medicine. Dr. Hahn said she really liked the idea of a profession that she could constantly be working with people and being challenged.
"I love getting to know my patients - one advantage of being of being an OB/GYN is getting to work with people through all the different stages of their lives," Said Dr. Hahn. "I really enjoy working with my patients during some of the biggest parts of their lives."
Dr. Hahn takes a patient driven approach to care. She enjoys working with patients to set up a plan of care that they feel comfortable with and fits their needs. She specializes in contraception care, minimally invasive surgery, obstetrics, and helping women with the perimenopause/menopause transition.
"My goal for my patients is that they become an active participant in their own care and their own health," said Dr. Hahn. "It's important to me to know that they are educated on their options and their own health so they can make the best decisions for themselves," she said. "My goal is always to have an open discussion, and not just me to telling them what is best."
Learn more about women's health physician, Dr. Bethany Hahn.
Dr. Hahn is an active member of the medical staff of OhioHealth Dublin Methodist Hospital. Nationally recognized for innovation, Dublin Methodist Hospital redefines patient care using nature, state-of-the-art technology and aesthetic design to provide a new kind of healing environment. Our world-class maternity care is provided by highly-skilled and caring staff in serene, spa-like birthing suites - designed to comfortably accommodate you, your family and caregivers.
About OhioHealth
OhioHealth is a nationally recognized, not-for-profit, charitable, healthcare organization with Methodist roots. Based in Columbus, Ohio, OhioHealth is currently recognized as one of the top five large health systems in America by Truven Health Analytics. It is also recognized by FORTUNE Magazine as one of the "100 Best Companies to Work For" and has been for eight years in a row, 2007-2014.
Serving its communities since 1891, it is a family of 28,000 associates, physicians and volunteers, and a network of 12 member hospitals, 25+ health and surgery centers, hospice, home-health, medical equipment and other health services spanning a 40-county area.
OhioHealth member hospitals include OhioHealth Riverside Methodist Hospital, OhioHealth Grant Medical Center, OhioHealth Doctors Hospital-Columbus, OhioHealth Grady Memorial Hospital, OhioHealth Dublin Methodist Hospital, OhioHealth Doctors Hospital-Nelsonville, OhioHealth Hardin Memorial Hospital, OhioHealth Marion General Hospital, OhioHealth O'Bleness Hospital, OhioHealth MedCentral Mansfield, OhioHealth MedCentral Shelby and OhioHealth Rehabilitation Hospital. For more information, please visit our website at http://www.ohiohealth.com.